---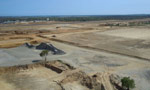 The Civil Aviation Authority (CAA) plans to take over the Palali Airport as part of the Government police to operate the country's airfields on a joint civilian–military basis on a decision taken by the Cabinet Sub Committee on Economic Reforms.
A dossier submitted to the Cabinet have identified 13 airfields for the purpose.
It states that the Ratmalana Airport is to be relocated at a estimated cost of Rs.1.8 billion. The Transport and Aviation Ministry is reported to hold the view that the internal airports should be managed and handled by civilians under the CAA after concerns were raised at the meeting about Sri Lanka Air force occupying lands at the airports.
The Airports at Batticaloa, Palali and Hingurakgoda will be taken over by the CAA to be operated by the air force. However, Helicopter training at the Hingurakgoda airport is to continue. (Kelum Bandara)