---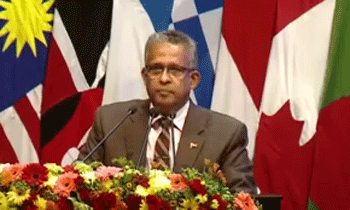 Bribery, corruption and fraud must be countered without being tolerated as they feed organized crime including human trafficking by discouraging honest and accountable governance, Foreign Affairs Ministry Secretary Prasad Kariyawasam said.
Delivering the Valedictory Speech at the Colombo Defence Seminar under the theme 'Countering Violent Extremism: Global Trends' on Tuesday, Mr. Kariyawasam said corruption makes ordinary people feel that the system is rigged against them and that the people in power are stealing what is rightfully theirs.
"Corruption, injustice and humiliation makes people easy prey for extremists and make communities ripe for extremist recruitment. Eradicating corruption and creating confidence in the integrity of government institutions are important ingredients for preventing violent extremism," he said.
He said it was important to build trust in government at all levels including in law enforcement agencies and the security forces that are meant to protect people and build confidence in the judiciary. "Political grievances must be addressed as these are breeding grounds that extremists exploit. When people feel oppressed, and their human rights are denied, it creates an environment that can be ripe for recruitment," he said.
Meanwhile, he said Sri Lankan defence forces should now adapt to meet new challenges in close partnership with their regional counterparts and beyond to combat and counter terrorism and violent extremism.
The Foreign Secretary also said Sri Lanka had been through the most extreme forms of violence despite being blessed by the four main religions in the world. "The cycles of violence that we had witnessed and experienced could help us to perfect the art of making our people realise the importance of embracing peace and peaceful coexistence as a way of life while abandoning violence as an option, forever," he said.