---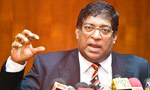 Brexit or Britain leaving European Union has a positive side effect on Sri Lanka with the increase of the country's foreign reserves by US $ 250 million, a Minister said yesterday.
During the question time in Parliament last week, Finance Minister Ravi Karunanayake said the foreign reserves rose by this amount after Brexit.
Later, in a brief comment to Daily Mirror, the Minister said things were moving positively ever before Brexit. However, he said it precipitated developments in Sri Lanka's favour after it happened.
"It is hot money going in for destinations. Our rates are good. People were speaking of us. Even before Brexit, things were coming in. When money is halted from going there, it has to go to safe destinations. When Sterling Pound is losing value, nobody wants to go after it. Then, the option is look for safe destination," he said.
The Minister said the foreign reserves stood at over US $ 5 billion at the moment. However, it is still a drop against over US $ 8 billion the country had over a couple of years back.
Meanwhile, the government said earlier that Brexit would likely to have negative effects in the long run with Sri Lanka losing market access under concessionary traffic rates. Britain accounts for 40 per cent of Sri Lanka's exports to Europe. (KB)