---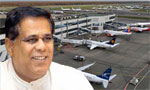 The main runway of the Bandaranaike International Airport (BIA) would be closed for three months from January 5 next year for renovations, Transport Minister Nimal Siripala de Silva said today.
He said it would be closed from 8.30 am to 4.30 pm every day for those three months.
"The BIA will be closed for eight hours a day during which a selected area of the runway would be renovated for four hours and allowed to cool down for another four hours," the Minister said.
A Netherland advisory team has been selected for the renovation project through a tender procedure.
The Minister told a media briefing that flights could be allowed to land at the BIA for about another one year according to International Air Transport regulation because the runway had not been renovated since 1958.
Work on a new Airport Terminal would also begin at the BIA next year. A concessionary loan agreement for Rs. 56 million was signed on March 24 between Airport and Aviation Services Ltd. and Japan International Cooperation Agency (JICA) to expand the capacity of the BIA.
The new terminal would be built with a grant of US$ 800 million from the JICA. It has been planned to complete the terminal within two years. The new multi-level terminal with an approximate floor area of 180,000 square metres where arrivals and departures are separated vertically would provide capacity of handling 15 million passengers per year. The project would include 23 aircraft parking stands with additional 96 check-in counters, eight baggage claim belts, seven baggage make-up carousels, 16 contact boarding gates with 28 passenger boarding bridges and six bus gates. (Chaturanga Pradeep)
Video by Buddhi