---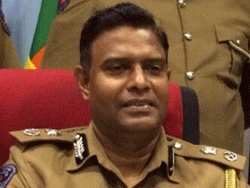 An event to honour and felicitate the Police Officers who had excelled in their assigned duties was held at the Jaffna Police Station yesterday.
When DIG Sanjeeva Dharmaratna who presided over the event was questioned by the media personnel present there about the activities of the "Avaa" group, he modestly said "Avaa – Giyaa", meaning the group was non-existent now. The word "Avaa" in Sinhala denoted the meaning "came" while the word "Giyaa" meant "left".
There were many schools of thought for the sword attacks that took place during the last few months in Jaffna and it was also pointed out that the "Avaa" group was responsible for them.
The "Avaa" group that claimed responsibility for the sword attack inflicted upon the Policemen in Chunnakam in October put up posters to that effect in various places there.
Meanwhile, it was urged that the sword attacks were carried out by the "Avaa" group and action should be taken to curtail their activities. Accordingly, a special Police squad dispatched from Colombo to Jaffna had arrested some youth alleged to be sympathisers of "Avaa" group and were remanded as ordered by Court. However, they were bailed out yesterday. (Sornakumar Soruban)