---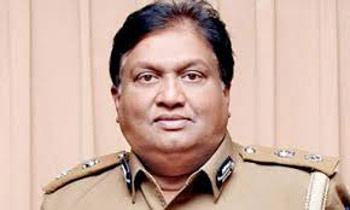 Police spokesman Priyantha Jayakody today admitted that the Police had failed to arrest Bodu Bala Sena (BBS) General Secretary Galagodaatte Gnanasara Thera until he surrendered to Court.
Responding to a barrage of questions from the media at the weekly Cabinet news briefing, he said a Buddhist monk could not be arrested like any other citizen.
Journalist: There were four police teams deployed to arrest Gnanasara Thera but still the police failed to arrest him.
DIG Jayakody: Yes. Our attempts to arrest him were not successful.
Journalist: Was there pressure from any quarters not to arrest him?
DIG: Arresting a Buddhist monk in a temple is not an easy task.
Journalist: People ask why arrest only Gnanasara Thera when many other Tamil and Muslim extremists have made comments causing religious tension.
DIG: No We have received 21 complaints from several people making allegations against not only Gnanasara Thera but against Tamil politicians like Sivajilingam, Minister Rauff Hakeem and some doctors.
Journalist: Has action been taken against them?
DIG: We are awaiting the Attorney General's advice. Under the Criminal Procedure Code there are two categories of offences over which suspects can be arrested -- one is hate speech that might cause racial or religious hatred among communities and the other is racially or religiously motivated attacks.
Journalist: Under what law was Gnanasara Thera arrested?
DIG: On allegations involving remarks reportedly made to create racial tension.
Journalist: Have you arrested any one on allegations under the second offence?
DIG : Yes, indeed. We have arrested 15 suspects up to yesterday for attacking commercial establishments and places of religious worship. Among those arrested are 12 Sinhalese, two Muslims and one Tamil. The attacks have taken place at Maharagama, Nugegoda, Panadura and Kurunegala. A Buddhist monk and a policeman were also arrested. Some of the suspects have been produced in Court. Mosques have been targeted at Danture and Kurunegala.
Journalist: Racially and religiously motivated attacks are on the rise all over the country which is highly disturbing.
Minister Senaratne: Please don't make these attacks a national issue. There is no such thing. A few Sinhalese, Tamils and Muslim extremists are doing this. They are only a small group. When a doctor gives family planning advice in good faith to restrict the number of children in a family, some interpret it as an action against an ethnic group. This is how it works. (Sandun A. Jayasekera)