---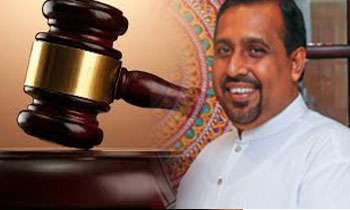 Former MP Anuruddha Polgampola, who was remanded on charges of violating previous bail conditions in connection with a financial fraud, was today released on a surety bail of Rs.500,000 by Kilinochchi Magistrate A.K. Anandarajah.
He was arrested in November last year, in connection with a financial fraud of Rs.8 million in relation to the construction of the Northern Railway line and was released on bail and later re-arrested on May 15 in connection with the violation of his previous bail conditions and remanded till today by Colombo Fort Magistrate Lanka Jayaratne.
The Killinochchi Magistrate ordered his arrest if he violateed his bail conditions again and instructed the Immigration Department to prevent him from leaving the country.
The President suspended Mr. Polgampola's appointment as Chairman of the State Timber Corporation (STC), a few days prior to his arrest. (Sithum Chaturanga)
Video by Situm Chaturanga