---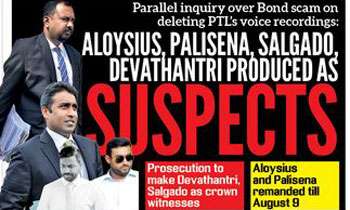 Perpetual Treasuries Ltd defacto owner Arjun Aloysius, its CEO Kasun Palisena, its Chief Dealer Nuwan Salgado and the IT executive Sachith Devathantri were today produced in court as suspects into the parallel magisterial inquiry conducted over the Bond scam on deleting phone call data from Perpetual Treasuries Ltd voice recording system and fabricating evidence to the Bond Commission.
Sachith Devathantri and Nuwan Salgado were arrested by the CID and produced in court, while Aloysius and Palisena were produced from the prison as they were in remand over the main Bond scam inquiry.
Perpetual Treasuries Ltd as the corporate entity was also named as a suspect into the inquiry by the prosecution.
Filing a further report, the prosecution said that they were expecting to make suspects, Sachith Devathantri and Nuwan Salgado as crown witnesses into the inquiry in future.
Subsequently, Fort Magistrate Lanka Jayaratne released Devathantri and Salgado on a surety bail of Rs. 300,000 each and also ordered the passports of them to be tendered in courts.
Earlier, in October 2017, the Court had imposed a travel ban on the suspects.
Suspects Aloysius and Palisena were remanded till August 9 by the Magistrate.
However, suspects, Devathantri and Salgado were taken into remand custody as they failed to tender their passports to the court yesterday.
The suspects were held liable by the prosecution over under the Penal Code, Registered Stock and Securities Ordinance and Computer Crimes Act in connection with the revelation transpired during the proceedings of the Bond Commission.
Senior Deputy Solicitor General Haripriya Jayasundara and Senior State Counsel Lakmini Girihagama appeared for the CID.
Earlier, PTL had told the Bond Commission that it had given all the data it had with the voice recording system. However, after startling confessions made by PTL IT expert Sachith Devatantri and its Chief Dealer Nuwan Salgado before the Commission, it was revealed that there was a deletion of some voice recordings.
Subsequently, the Attorney General instructed the CID to initiate a criminal investigation with regard to the revelation.
In that startling revelation, PTL IT executive Sachith Devathantri on August 31, 2017, admitted before the Presidential Commission of Inquiry that he had deleted several phone recordings from PTL's voice recording system on the instructions of the Chief Dealer of PTL, Nuwan Salgado on July 5, 2017.
Mr Devathantri had also disclosed that it was the altered phone recordings that were subsequently provided to the Commission in the latter part of August 2017, as opposed to what PTL's CEO Kasun Palisena had ascertained in his affidavit earlier that they had provided all data to the investigation.
Meanwhile, Perpetual Treasuries Ltd owner Arjun Aloysius and its CEO Kasun Palisena were also ordered to be re-remanded till August 9 by the magistrate over the magisterial inquiry in which they were accused of abetting and conspiring with Arjuna Mahendran to misappropriate public funds worth Rs. 688 million during the Bond auction held on February 27, 2015. (Shehan Chamika Silva)