---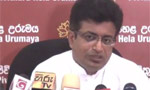 Nava Sama Samaja Party General Secretary Dr. Wickramabahu Karunaratne should be arrested for making false allegations on Sri Lankan tri-forces that ex-LTTE cadres in detention had been allegedly injected with poisonous drugs, if he did not have evidence to prove the allegations, Opposition MP Udaya Gammanpila said today.
While denying Dr. Karunaratne's claim, MP Gammanpila said no mysterious deaths of ex-LTTE cadres reported due to alleged poisoning when they were undergoing post-war rehabilitation in army camps.
He told a media briefing yesterday that nearly 13, 000 ex-LTTErs surrendered to the Army, without opting to commit suicide, by biting into a cyanide pill, because they had trust on the Sri Lankan Army.
"Ex-terrorists were provided with vocational training, English and ICT education and finally handed over them to the relatives after rehabilitation. Everything was done within two years . No country in the world treats ex-terrorists in such a manner," MP Gammanpila said.
He said that Dr. Wickramabahu Karunaratne should have evidence before making such serious allegations against the tri-forces.
He said the allegation would be used to level war crimes charges on Sri Lankan tri-forces, by those who need to defame the good name of them.
Dr. Karunaratne had been injected with a toxic drug called 'Tamil separatism' by western countries, he alleged. (Piyumi Fonseka)
Video by RM