---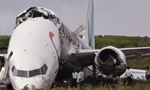 A Boeing 737 passenger jet crashed as it was landing at the Rostov-on-Don airport in southern Russia, the country's Southern Regional Emergency Center said today.
All people on board have died, Russian state news agency Tass reported, citing an official at the emergency center.
Flydubai Flight 981 had traveled from Dubai to Rostov-on-Don with 55 people aboard, the emergency center said.
State news agency Sputnik reported the airport would be closed until 6 a.m. Moscow time.
"We're aware of reports coming out of Russia and our team is currently gathering more details," Boeing Airlines tweeted.(CNN)