---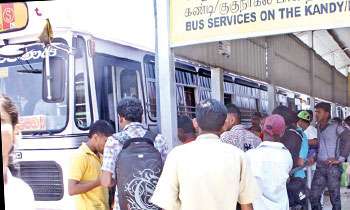 The All Ceylon Private Bus Workers Association (ACPBWA) said it would launch a strike from midnight against new fines imposed for violating road rules.
Speaking to media, ACPBWA Convener U.K Kumararathna Renuka said the sudden increase of new traffic fines was not reasonable.
"Our daily salary is Rs.1,500 and the spot fine is Rs.3,000. If we are fined exorbitant charges, we will not be able to look after our families," he said.
The association urged the government not to implement the spot fines until the relevant technical equipment was fixed to the road network, Mr. Renuka said.
The private drivers of bowser, container and three-wheeler drivers of Colombo will join the protest, he said.
All Ceylon Private Bus Workers Association went on strike in the Southern province in December 2016 against the 2017 budget proposal to increase the minimum traffic fine to Rs 2500.
Meanwhile, Lanka Private Bus Owners' Association (LPBOA) President Gemunu Wijeratne requested the ACPBWA not to hold the strike action because of ongoing G.C.E. A/L examination.
He said the LPBOA cannot participate in the scheduled bus strike while disrupting the children's examination.
Therefore, Mr. Wijeratne requested the ACPBWA not to hold the strike action until the end of the examination. If they launched the strike after the examination, the LPBOA would also join them. (Chaturanga Samarawickrama)