---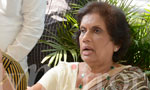 Former President Chandrika Bandaranaike Kumaratunga today staked a bigger claim for the war victory by reiterating that 75 per cent of the LTTE-held territory was cleared during her tenure.
She told a news conference held at her official residence that at the time she took over the presidency in 1994, the entire northern region -- barring five or six military bases at Mannar, Talaimannar, Kankesanturai, Point Pedro, Mullaitivu and Vavuniya in the central part of the North -- was controlled by LTTE leader Velupullai Prabhakaran.
Ms. Kumaratunga said Prabhakaran was calling the shots in the North and even dictating terms to the government officials.
"But within a year after assuming office, we liberated the entire Jaffna area. How can one deny it? Our people do not believe in falsehoods. Are our people a bunch of donkeys to believe in untruths? After Jaffna was captured on December 5, 1995, the LTTE retreated into the jungles of Mullaitivu and Kilinochchi while having an insignificant presence in other parts other parts of the North. Nearly 75 per cent of the areas controlled by Prabhakaran were liberated under my government. I do not crow about it. I did not install life size cutouts of myself. I am not mentally retarded or an egoist to do such things. I do not lay claim to be the President forever by boasting of gains on the war front," she said.
Ms. Kumaratunga, who is playing a key role in common opposition candidate Maitripala Sirisena's election campaign when asked whether she had distanced herself from the campaign, she said she was down with a bad cough for about two weeks and therefore did not address any of the political rallies.
"If I speak, it will get worse and thought it better to keep away till I got better. There are no other reasons for keeping away. Probably the state media may want me to die," she said.
Commenting on the campaigning at grassroots level, she said there were issues about coordinating propaganda activities, but those matters were being sorted and added that the crossover of UNP's former General Secretary Tissa Attanayake had an impact because he was involved in planning campaign activities.
"Normally, a General Secretary plays a key role. The UNP General Secretary was involved at a planning level. His crossover upset some of the activities initially. Now a new General Secretary has been appointed. He is sorting out matters. Things will fall in line soon," she said.
Three United People's Freedom Alliance (UPFA) members -- Attanagalle Pradeshiya Sabha member Indika Rajapakse, Minuwangoda Pradeshiya Sabha Group Leader Somaratne Diyanetti and Chilaw Urban Councillor Jeewani Kariyawasam -- pledged their support to common opposition candidate Maithripala Sirisena. (Kelum Bandara and Yohan Perera)
Video by Pradeep Pathirana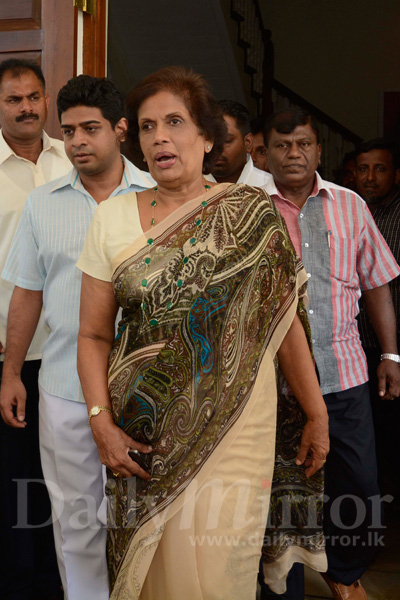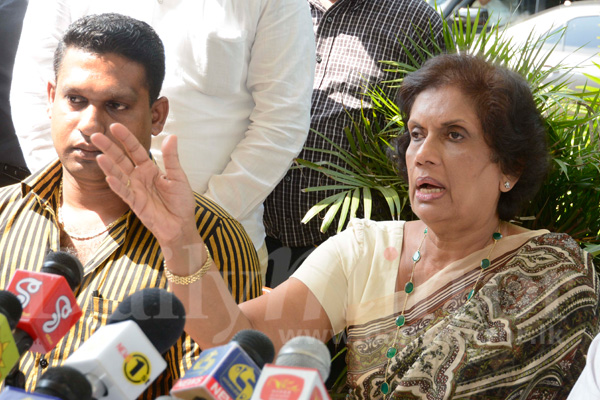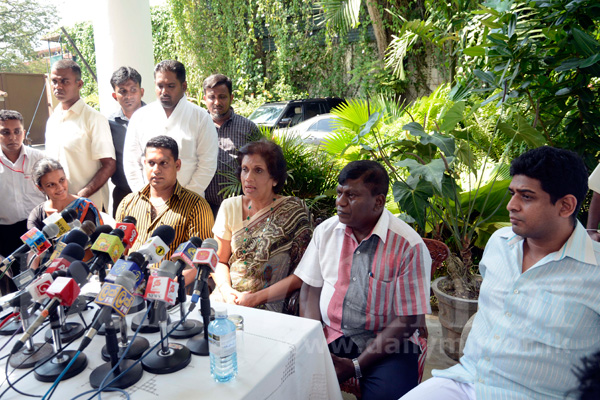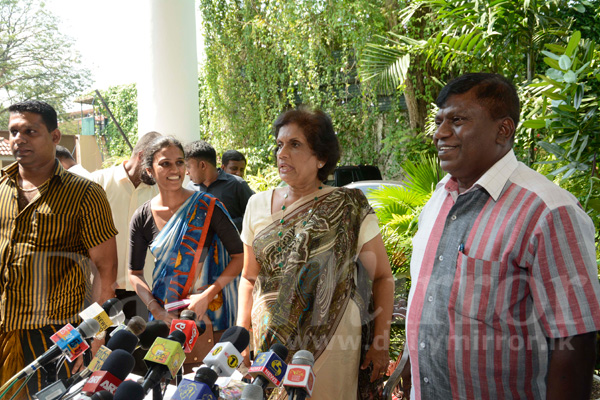 Pix by Pradeep Pathirana