---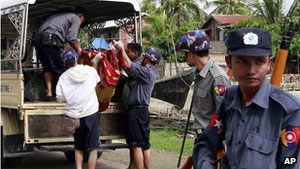 The United States is urging an end to violence in Burma's Rakhine state where at least seven people have been killed.

The situation "underscores the critical need for mutual respect among all ethnic and religious groups", said US Secretary of State Hilary Clinton.

Violence flared after the murder of a Buddhist woman last month, followed by an attack on a bus carrying Muslims.

Meanwhile the EU expressed satisfaction at President Thein Sein's government's handling of the violence.

Both the US and EU recently eased sanctions on Burma amid a process of reform that began with the election of a military-backed nominally civilian government in November 2010 that ended decades of military rule.

''We urge the people of Burma to work together toward a peaceful, prosperous and democratic country that respects the rights of all its diverse peoples," Mrs Clinton said in a statement.

"We believe that the security forces are handling this difficult intercommunal violence in an appropriate way," said Maja Kocijanic, spokeswoman for EU foreign policy chief Catherine Ashton.

Tension high

Activists, however, have criticised Burma's government for allowing troops to take control of the western province and asked that journalists, aid workers and diplomats be allowed into the area.

The violence ''is spiralling out of control under the government's watch", said Elaine Pearson, deputy Asia director at Human Rights Watch in a statement.

President Thein Sein declared a state of emergency late Sunday night after unrest over the weekend saw rival Buddhist and Muslim groups setting houses on fire.

Official media said the state of emergency was "intended to restore security and stability to the people immediately".

According to reports, the violence began on Friday in the town of Maungdaw, spreading to state capital Sittwe and neighbouring villages.

The United Nations has decided to temporarily relocate non-essential staff in the area where tension remains high.

In a statement, the UN said it had requested full government support for the safety and security of all its staff and their families in Maungdaw, Buthidaung and Sittwe while they are relocated to the main city, Rangoon.

Neighbouring Bangladesh has increased its security presence on the border amid fears of an exodus.

The Border Guard Bangladesh force on Monday said it had turned away a number of boats carrying refugees. Reports of the number of people ranged from 50 to 300.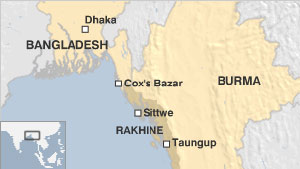 Stateless
The clashes in Burma began on 4 June when a mob attacked a bus in Taungup, Rakhine province, apparently mistakenly believing some of the passengers were responsible for the earlier rape and murder of a Buddhist woman.
Rakhine state is named after the ethnic Rakhine Buddhist majority, but also has a sizeable Muslim population, including the Rohingyas.
The Rohingyas are a Muslim group and are stateless, as Burma considers them to be illegal immigrants from Bangladesh.
A nominally civilian government was elected in Burma in 2010 and, in April this year, opposition politicians led by Aung San Suu Kyi entered Burma's parliament following historic by-elections.
However, the government is still dominated by the military and concerns over political repression and human rights abuses continue.

(Source : BBC)