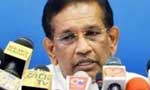 The government has gathered information on eight Dollar Accounts held in foreign banks by members of a VVIP family of the previous regime and the names of account holders will be disclosed after the ongoing investigations are over, Cabinet Spokesman and Minister Rajitha Senarathe said today.
He told the media at the weekly cabinet news briefing that in one account they had deposited US$ 1.86 billion,US$ 1.8 billion in another and US$ 500 million in yet another account.
When a journalist demanded Minister Senaratne to disclose the names of those allegedly held illegal dollar accounts in the banks in foreign countries, he declined and said it would affect the investigations.
Responding to a statement made by a member of a VVIP family disowning the dollar accounts, Minister Senaeratne said no one should jump the gun if they were innocent but vowed to disclose the names of account holders at the right time and also to bring them before the law on charges of money laundering and plundering of state resources.
Minister Senaratne appealed to the media not to give publicity to the investigations on illegal dollar accounts held by Sri Lankans as it would hamper the inquiry and added a few countries had expressed concerns on certain local media reports recently.
"Many countries have flexible legislations to deal with black money deposited in overseas banks. Only countries like Monaco have strict rigid laws on this matter. Therefore, Sri Lankan sleuths do not find the task impossible and they are confident that they would trace all illegal dollar accounts held by Sri Lankans and those who held them before long," Minister Senaratne stressed.
He added that the US Federal Reserve (USFR) was assisting Sri Lanka in the investigations as the USFR had data on each and every dollar account held in any bank in anywhere in the world.
(Sandun A Jayasekera)