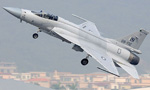 Despite foreign media reports that claim Sri Lanka will be the first foreign buyer of the multi-role combat aircraft JF-17 Thunder, Sri Lanka Air Force says no decision has been made yet with regard to the procurement of the fighter jet.
Air Force Spokesperson, Wing Commander Gihan Senevirathne speaking to Daily Mirror said although both Pakistan and China have indicated the availability of the fighter jet and proposals have been submitted on the availability of the aircrafts, SLA has not made any decision on purchasing them.
Taiwan based China Times group news website 'Want China Times' however reports Sri Lanka would be the first foreign country to acquire the aircraft also known as the 'Fierce Dragon' or FC1-Xiaolong. This was following a claim made at the 51st Paris Airshow by PAF Sales and Marketing Chairman, Air Commodore Khalid Mahmood that 'a contract has been signed with an Asian country', which was reported in Pakistan-based new website 92NewsHD last week.
'Want China Times' further notes that an order has been made for about 18 – 24 aircrafts and adds the speculations of Sri Lanka procuring the fighter jet emerged, when a photo of an office of a SLA Commander allegedly revealed a scale model of the JF-17 Thunder. It also quotes Pakistan Air Force stating the delivery of the aircraft to Sri Lanka would commence in 2017.
The JF-17 Thunder is a lightweight, single-engine, multi-role combat aircraft developed jointly by the Pakistan Aeronautical Complex and the Chengdu Aircraft Corporation of China. It is deployed for aerial reconnaissance, ground attack and aircraft interception. Its designation 'JF-17' by Pakistan is short for 'Joint Fighter-17' and its alias 'FC-1 Xiaolong' in Chinese stands for 'Fighter China-1 Fierce Dragon'.
(

Lakna Paranamanna

)