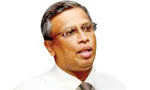 Rejecting assertions by the Jathika Hela Urumaya, the Tamil National Alliance said today that the protest in Jaffna was only an 'expression of anger against the brutal murder' of an 18 year old student.
"There was not even a hint of targeting the Sinhalese living in Jaffna or anything of that sort. That is a complete fabrication. The protest was an expression of the people;s anger at the brutal murder of this student", TNA MP, M.A. Sumanthiran told Daily Mirror.
Earlier, issuing a news release, the JHU said, 'Sinhalese are being threatened' with the protest used as a pretext to do so.
"This suggestion is uncalled for and is designed to stir up racial hatred in the country. They should be withdrawn immediately" Sumanthiran said.
The protest and hartal took a violent turn in Jaffna today, with crowds stoning the Jaffna courthouse and burning tyres, following a wait for one of the main suspects in the alleged rape and murder of an 18 year old girl.
(Hafeel Farisz)