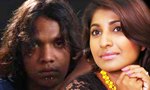 Some young artistes were attacked by political goons while they were conducting a campaign in support of presidential candidate Maithripala Sirisena at Kumbukgate in Kurunegala.
The young artistes' collective "Aluth Parapura" spokesman Udul Premaratne said they came under attackwhile distributing leaflets among the people. He said the attack was carried out in the presence of the police officers who took no action to prevent the attack.
"Around 11.30 a.m. we were distributing leaflets in Kumbukgate. After an hoursome goons who arrived there attacked us. Actress Samanalee Fonseka and singer Indrachapa Liyanage were injured," he said.
"Aluth Parapura" was formed by a group of young artistes against the existing political system. They started their campaign from Kurunegala today.
Mr. Premaratne alleged that they were attacked in the presence of three Police officers from the Gokarella Police.
Meanwhile, DIG in Charge of Kurunegala District told Dailymirror online that they have received a written statement and that they were investigating in this regard.
(Chathushika Wijeyesinghe and Darshana Sanjeewa)