---


ecent statistics show that an estimated 40,000 people suffer from Cerebral Palsy in Sri Lanka. When this figure is compared with the 33,000 Australians suffering from Cerebral Palsy in a country with a similar population of 20 million, the situation in Sri Lanka cannot be considered as favourable.

"In under-developed and developing countries like Sri Lanka, we see an increased number of children with Athetoid type of Cerebral Palsy which is caused by infection after birth. This number is rising in Sri Lanka," Chartered Physiotherapist and Sri Lanka's Cerebral Palsy Foundation President Gopi Kitnasamy said.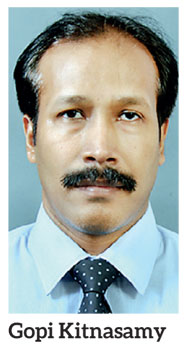 In explaining about the condition, he said, "Cerebral Palsy refers to a group of neurological disorders that appear in infancy or early childhood and permanently affects body movement and muscle coordination. Cerebral palsy is caused by damage to or abnormalities inside the developing brain that disrupt the brain's ability to control movement and maintain posture and balance. The term cerebral refers to the brain; palsy refers to the loss or impairment of motor function.

Cerebral Palsy is the most common motor disability in childhood and this is more common among boys than girls.Some 70% of the children identified with Cerebral Palsy had spastic Cerebral Palsy. More than 12% walked using a hand-held mobility device and more than 40% had limited or no-walking ability. More than 40% of children with Cerebral Palsy have intellectual disability, 35% have epilepsy, and more than 15% have vision impairment. Therefore we should make the community aware of this condition beforehand."

Kitnasamy pointed out that every hour, another child is born with Cerebral Palsy. "Cerebral Palsy is a life-long physical disability caused by damage of the developing brain. It is a condition that is permanent, but not unchanging. There is no known cure to this condition," he said. "When we take the lens away from Sri Lanka, into the world we can see that globally, more than 17 million people have Cerebral Palsy and one out of two people with Cerebral Palsy lives in chronic pain; one out of three cannot walk; one out of five cannot talk; one out of 10 has a severe vision impairment and one out of 25 has a severe hearing impairment."

He said in most cases, brain injury leading to Cerebral Palsy occurred during pregnancy. "Cerebral Palsy, except in its mildest forms, can be evident in the first 12 to 18 months.

The lack of muscle coordination when performing voluntary movements; stiff or tight muscles and exaggerated reflexes (spasticity); weakness in one or more arm or leg; walking on the toes; variations in muscle tone, either too stiff or too floppy; excessive drooling or difficulties swallowing or speaking; shaking (tremor) or random involuntary movements; delays in reaching motor skill milestones and difficulty with precise movements such as writing or buttoning a shirt are the symptoms of Cerebral Palsy. But these may differ in type and severity from one person to the next depending on which parts of the brain have been injured, and may even change in an individual over time." Mr. Kitsamy added.
---

Cerebral Palsy is the most common motor disability in childhood and this is more common among boys than girls
---



He said when it came to a baby younger than six months of age, the symptoms were different and when the baby's head lags when you pick him up while he's lying on his back or if he is too stiff or too floppy and if his legs get stiff and they cross or scissor when you pick him up he might be suffering from Cerebral Palsy.

"But if the baby is older than six months of age the set of symptoms differ from the above mentioned list. The child may not roll over in either direction, she may not be able to bring her hands together, she may experience a difficulty in bringing her hands to her mouth, she may reach out with only one hand while keeping the other fisted."

"A baby older than ten months of age may have the following symptoms. He will crawl in a lopsided manner, pushing off with one hand and leg while dragging the opposite hand and leg. He will not be able to stand holding onto support. Therefore the parents should be very careful about their child during his infant age. If you see these symptoms in your child, go and meet your doctor immediately," Mr. Kitsamy said.

He said the cause of Cerebral Palsy is unknown in many cases, but possible causes include genetic abnormalities, congenital brain malformations, maternal infections or fevers, or fetal injury like brain damage.

"Low birth weight and premature birth, multiple births, infections during pregnancy, blood type incompatibility between mother and child, exposure to toxic substances, mothers with thyroid abnormalities, intellectual disability, excess protein in the urine, or seizures, breech presentation, complicated labour and delivery, small for gestational age (babies born smaller than normal), having Seizures, low Apgar score (rating that reflects a newborn's physical health) and child having Jaundice a yellowing of the skin or whites of the eyes of the newborn) are the risky conditions for Cerebral Palsy. Cerebral Palsy related to genetic abnormalities cannot be prevented, but a few of the risk factors for congenital Cerebral Palsy can be managed or avoided. For example, rubella, or German measles, is preventable if women are vaccinated against the disease before becoming pregnant. Rh incompatibilities can also be managed early in pregnancy. Acquired Cerebral Palsy, often due to head injury, is often preventable using common safety tactics, such as using car seats for infants and toddlers."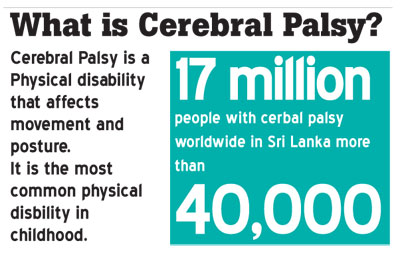 The world Cerebral Palsy Day falls on October 1, the Cerebral Palsy Lanka Foundation carries out myriad awareness programmes to make the community aware of the Cerebral Palsy condition.

"Cerebral Palsy Lanka Foundation (CPLF) is the first organisation for children with Cerebral Palsy in Sri Lanka. It was started with the objective of providing educational and therapeutic services for children with Cerebral Palsy and associated movement disorders. It was started on October 6, 2011 in Wattala. Cerebral Palsy Lanka Foundation is working on creating a National Register for children with Cerebral Palsy and other developmental disorders. This will be very useful to identify these children, most prevalent district, most common cause and type in Sri Lanka. This register will also help us to reach out to them and provide the necessary services to them. CPLF would like to request all parents with special children in Sri Lanka to register with the foundation," Mr. Kitsamy said