---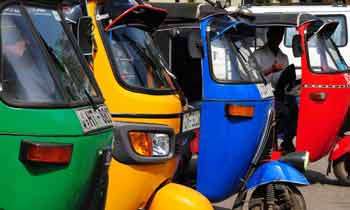 The fare for the first kilometre in a three-wheeler would be increased by Rs.10 by midnight today, All-Island Three-Wheeler Drivers' Union President Lalith Dharmasekera announced.
He said the decision was taken after the government took a decision to increase fuel prices from tonight.
"Three-wheeler fares have not been increased for the last six years and I, as a union leader, was against increasing three-wheeler fares. We charged Rs.50 for the first kilometre which now becomes Rs.60. The cost for the second kilometre is Rs. 40," he said.
The government first let Lankan Indian Oil Corporation (LIOC) increase fuel prices and then let Ceylon Petroleum Corporation (CPC) follow suit, he said.
We have nothing left to do except increase the minimum fare. We do not have any support from the government. We earn our living by what we get from our customers. We are sorry for inconveniencing them in this manner, he said. (Chaturanga Samarawickrama)