---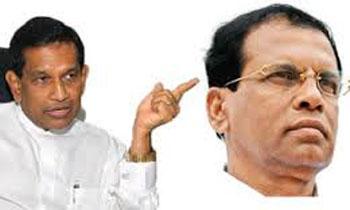 Contradicting a statement made by President Maithripala Sirisena on Wednesday that he threw away the Cabinet paper aimed at legalizing homosexuality, Minister Rajitha Senaratne today told Parliament that there was never such a move.
"There was never a move to legalize homosexually or prostitution," the minister said responding to a question raised by MP Piyal Nishantha this afternoon.
The minister said Cabinet paper was only aimed at ensuring the rights of all Sri Lankans.
"The paper was to ensure that people of different sexual orientation enjoys same rights as others. You must read the Cabinet paper clearly" he told MP Nishantha.
"There was a list of items under sexual orientations and gay people came under one category. Accordingly, gay people will only enjoy rights as others and there is no move to recognize homosexual relationships," he said.
The minister said this when MP Nishantha recalled the statement made by the President on Wednesday.
MP Nishantha then said gay people might use the Cabinet paper as a loop hole to argue that the lifestyle they adopt was legal. (Yohan Perera)