---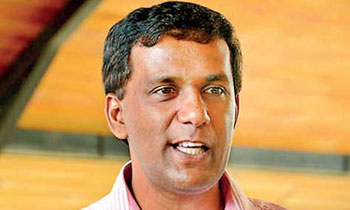 The Yahapalana Government promotes corruption and protects fraudsters just as the previous Mahinda Rajapaksa Government, the Anti-Corruption Front said today.
ACF Advisor Keerthi Tennakoon said the current government which was elected to eradicate corruption had become a government of fraudsters and thieves.
"A proper investigation is yet to be launched into incidents of corruption and acts of fraud with a proper judicial process to bring the perpetrators to book only a memory. This is the main reason for the country to slip further down the Corruption Perception Index (CPI) this year," he told a news conference.
He said the number one reason for corruption within the government was the Central Bank (CB) Treasury Bond sale in which former CB governor Arjuna Mahendran was involved.
Mr. Tennakoon said Mr. Mahendran still continues to interfere in state activities despite all the allegations levelled against him. "We revealed that Mr. Mahendran attends meetings at the Finance Ministry to which the ministry replied by saying that the former CB governor doesn't hold any position in the ministry. We would like to know from the ministry secretary how a person who doesn't hold any post in the ministry still attends its meetings," he said.
He said the coal tender fraud was the second reason which had made the government look more corrupt. "Maithri Gunaratne, who refused to sign the corrupt deal, was removed from his post as Chairman. This is how the government takes action with regard to incidents of fraud. When we reveal these deals, the government says amendments are on the way and these revelations just hurt the government. If it's not corrupt, why bother?" he asked.
He said current situation is such that civil organizations aren't even allowed to speak about the faults of the government. "We have to overcome these obstacles. Otherwise, this government will also face the same fate the previous government faced and end up in the garbage heap," he said. (Lahiru Pothmulla)