---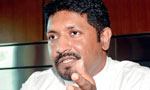 State Minister of Defence Ruwan Wijewardene today said that the government will not agree to remove Army camps in the Northern Province even though some people were holding demonstrations demanding to do so.
While commenting on the 'Eluga Tamil' (Let Tamils Rise!) demonstrations organized by the Tamil People's Council (TPC) led by Chief Minister C.V. Wigneswaran, the Defence State Minister said when the government is putting its utmost effort to establish reconciliation among the races and religions, such extremist activities cannot be accepted.
He said this at a Commencing Ceremony of a Junior School Force Training Programme in Rantembe.
"A harthal was organized by Northern Province CM and some extremist groups demanding the Army camps be removed. The protesters demand us not to build temples and settle foreigners there. We would like to stress that, the government will not remove our Army camps," he said.
He further said that whatever the demand the protesters come up with, the government will go ahead with its reconciliation process.
As a government, the minister said they would join all the nations in the country for the development plan in coming years.
He also reiterated that the government will not leave opponents to pose a threat to national security and peace that has been established in the country.
"We are not afraid of their challenges. They can protest and shout as all they want. Despite the obstacles created by them, the government will not return in this correct path," State Minister Wijewardene stressed. (Ranjith Karunaweera)