---
Sri Lanka is blessed with plenty of rainforests that had contributed to regulating its climatic conditions over the years. Yet during the recent past, people with influential backgrounds have resorted to utilizing these natural resources for their personal benefits. A series of mini-hydro projects and hotels which were suspended due to various environmental and humanitarian concerns are subject to commencement under the purview of the Ministry of Special Assignments.
One such project that had raised concerns over the environmental-expert fraternity is the Koskulana mini-hydro project which is being developed within a 'buffer zone' of the Sinharaja Forest - a rainforest in Sri Lanka which has been listed as a UNESCO World Heritage Site. According to environmental experts a buffer zone is defined as an area of land which is designated for environmental protection. In an attempt to shed light on this issue,

Dailymirror

the spoke to a few concerned parties to inquire about the current progress of this project.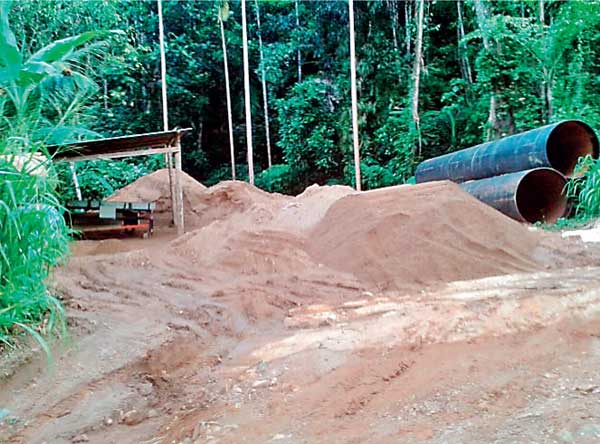 The DS has issued this land for temporary use :

PILF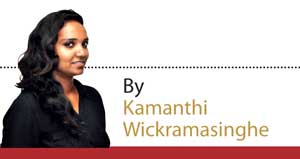 The Public Interest Law Foundation (PILF), a non-profit organisation established in 1999, which highlights environmental issues, has taken legal measures against this project and have filed a case in the Court of Appeal. Speaking Dailymirror to the , a representative of this organisation who wished to remain anonymous said that they were very much concerned about this issue after it was aired on television last November. "We filed a case under the complaint number 527/2015 and took up the matter in courts. We thought we should take a closer look at this project and when inquired we came to know that it was happening inside the buffer zone of the Sinharaja Forest violating certain laws and regulations. The project is being done at a border of an area which has been marked as a UNESCO World Heritage Site and I think this is a serious matter to be dealt with.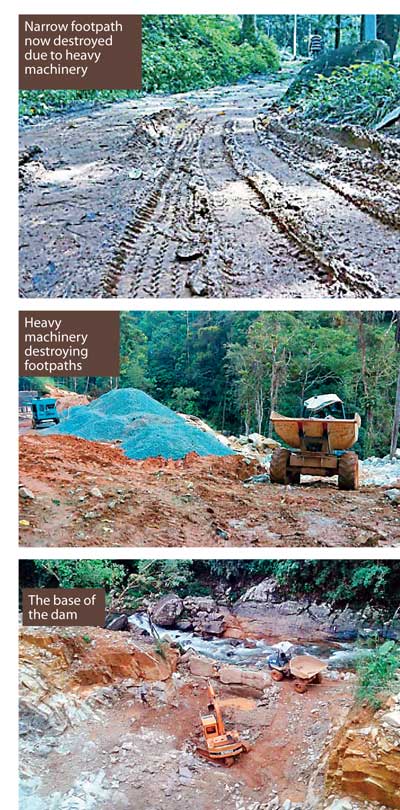 But this ongoing project doesn't seem to be a temporary one at all. When the matter was taken up in courts a notice was issued to suspend the work. Therefore, by any chance if the developer resumes work, it would be contempt of court. We have also drafted a petition with seven parties appearing as respondents
One of the main problems concerning this matter is the fact that there has been no Environmental Impact Assessment (EIA) done addressing the pros and cons it would impose on the environment. The Central Environmental Authority has asked to stop issuing EIAs but to just submit an Initial Environmental Examination (IEE) which doesn't include the public opinion. For an issue like this, the public opinion is very crucial because it is the villagers who will be affected in the end. An IEE is negligible when it comes to a large scale process like this. We are trying to restore this by making a request in courts to introduce the system of drafting EIAs and clarifying the issues when it comes to environmental concerns rather than drafting IEEs and white-washing a major part of the issue which needs to be highlighted."
We filed a case under the complaint number 527/2015 and took up the matter in courts
When inquired further, the PILF has also found that the Divisional Secretary of Kalawana has given this particular stretch of land to the developer through a permit to be used on a temporary basis. "But this ongoing project doesn't seem to be a temporary one at all. When the matter was taken up in courts a notice was issued to suspend the work. Therefore, by any chance if the developer resumes work, it would be contempt of court. We have also drafted a petition with seven parties appearing as respondents."
The villagers were bribed to support the project :

Resident
The Sinharaja World heritage site is home to many endemic species including freshwater fishes. The Koskulana River which flows through the forest is a treasure to many villagers living within this area.
Remaining under strict condition of anonymity, an area resident said that as a result of the weir that has been built across the river, 5.8km of the river will be dried down. "This would disturb the life cycles of the fish living in small streams. This area is home to 300 odd villagers and they utilize water from this river for their daily consumption. When this water gets dried down, how will they survive? When the ecosystem is disturbed orchids and other such plants will be subject to extinction. When this particular Professor came to do a report on this area we were told that due to blasting of rocks there will be landslides experienced on areas where there are steep elevations. Another concern is the fact that this particular project is supposed to produce up to 750kW but the amount of water provided by the river is not sufficient enough to produce such a capacity."

The resident also said that several politicians have been exerting their influences to continue this project. "Politicians such as Piyasena Gamage have been involved in this project from the beginning. According to my knowledge, the developer gets a profit of Rs. 1 million when generating 1 MW of electricity and the estimate for this project was close to Rs. 218 million. Several people supporting the project have bribed the villagers asking them to support the project. Now the villagers are having different opinions about it. Only a few couldn't be bought to support this project and they know the true value of their environment."
Yes, I decided to revoke suspensions on these projects :

Sarath Amunugama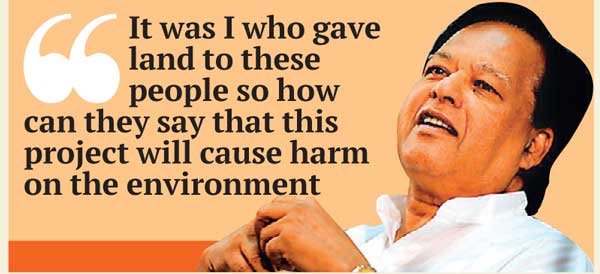 In his comments to the Dailymirror , Special Assignments Minister Sarath Amunugama said that he had walked every bit of this area while serving as a government agent in Galle. "It was I who gave land to these people so how can they say that this project will cause harm on the environment. Several of these projects were suspended due to abeyance of certain authorities including some NGOs and environmental rights activists.
They have been shouting ever since this project started and therefore we had to suspend work for some time. But as far as I'm concerned there will be no harm caused to the environment and therefore, I have decided to revoke suspensions on these projects and complete them soon."
Can't respond, matter is in courts :

Kalawana Divisional Secretary

The Dailymirror spoke to the Kalawana Divisional Secretary, G.D.L Udayakumari to inquire about the allegations but she refused to reply since the matter is still in courts.
Mini-hydro plants are not a sustainable solution:

Jayantha Wijesinghe
Speaking to the , Chief Co-ordinator of Rainforest Protectors of Sri Lanka, Jayantha Wijesinghe said that when a project of this nature is being done, certain legal procedures should be taken in to consideration. "The initial approval for the project was submitted back in 2008 but then the Forest Department rejected approval. However, by 2014 they were able to convince the Forest Department and they started the project. About 25-30% has been completed so far according to my knowledge but several other parties argue that almost 75% of the construction has been done. The Koskulana River is situated within the buffer zone of the Sinharaja Forest and therefore it is a highly protected area. The project is being done adjoining the boundary of this buffer zone. Buffer zone areas are quite important since they have high ecological diversity and therefore much attention needs to be given in terms of preserving the environment. Whoever is developing projects should consider the environment as their topmost priority. However, the major problem occurs when they start to build the weir across the river because thereafter it would slow down the flow of water. This will have a negative impact on species migration especially that of the fish population. This in turn will disturb the river flow and as a result the entire structure of the ecosystem will break down. At present a weir is built across the river and that itself is a violation of the law."

"Another massive problem will be that around 500-600m of the river will be dried down. In reality nobody will be concerned to monitor the flow of water. They also have done sand-mining and have cleared about 2-3 acres. This hydro power plant is being constructed within 4 km of the Kudawa entrance. One has to reach this site through thick forest and on either side lies the Rajuwankanda forest annexed to Sinharaja. Here there are 10-15 small streams and a footpath used by villagers. But after this project has commenced work, there have been heavy vehicles moving along this footpath which has made it muddy so much so that now villagers cannot use it. In addition to that, the small streams have been disturbed and there too, the water has become muddy. Living in these small streams are little fishes endemic to Sri Lanka and once their ecosystems get damaged, their lifecycles will be disturbed."
Political powerhouses are playing a game undercover and they do not know the consequences of such actions. Banks too are in the process of issuing loans at lower interest rates so that these people can carry out their shrewd plans
Speaking about the quotient that is contributed by mini-hydro plants, Mr. Wijesinghe said that when the main energy requirement is 2500-2900 MW per day, these mini-hydro plants generate only around 5% of it. "This amount is negligible. During the times of the drought, this percentage reduces to less than 1%. There are around 190 mini-hydro plants in Sri Lanka but altogether they contribute only about 2.5-2.8%. Therefore this is not a sustainable solution.

It has been estimated that the Koskulana plant would only generate a minimal 0.6 MW which in other words is 600 KW. If you take an iron at home, it has a capacity of 1KW so this means that the Koskulana mini-hydro plant can generate energy to power-up 600 irons only. Political powerhouses are playing a game undercover and they do not know the consequences of such actions. Banks too are in the process of issuing loans at lower interest rates so that these people can carry out their shrewd plans."