---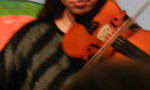 A tourist who was playing the violin on the road side to earn money was taken into custody by the Ella Police.
The tourist (24) is a resident of Summer Town, Oxford, England. Police said she had arrived on July 8, for a month's stay.
Ella OIC IP L. D. N. Karunaratne took the young lady into custody near the Ravana Ella, when she was playing her violin while seated on the road side.
She said she was compelled to beg as she had run short of funds and was in need of money for her daily expenses.
Under the provisions of the Immigration and Emigration Act No. 20 of 1948, foreigners who arrive as tourists are prohibited from begging.
The foreigner was released with a warning. (Prasad Rukmal)