---
Kishani Jayasinghe openly criticized for performing an operatic version of
'Danno Budunge'

The recently concluded 68th Independence Day celebrations made headlines as the performance by the talented Sri Lankan-British soprano Kishani Jayasinghe was heavily criticized in certain television stations and some social media.
The criticisms were based on the fact that she performed the perennial song 'Danno Budunge' in operatic style. Kishani has a record of performing in various international venues and she was the first Sri Lankan singer ever to perform on the main stage of the prestigious Royal Opera House.
The entire incident reflected the mindsets of the locals and moving on from then onwards there was much discussion about the song and the performance itself. In a candid interview with the Dailymirror , Kishani expressed her views about the reception of opera in
Sri Lanka in addition to the views about the incident. The Dailymirror also spoke to several veteran artistes to find out how fair were the criticisms made against the 'novel' version of 'Danno Budunge'.
Excerpts of an interview on the topic with Premier Ranil Wickremesinghe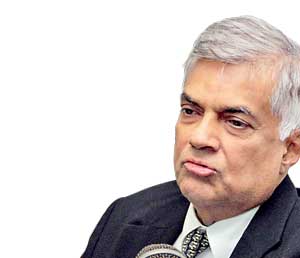 In an interview which was aired on television a few days back, Premier Ranil Wickremesinghe was in a discussion with contemporary Sinhala writer, radio and TV personality Upul Shantha Sannasgala. Speaking about the history of 'Danno Budunge', Mr. Wickremesinghe mentioned that John de Silva stepped down from plays at one stage. "Danno Budunge is a song which talks about the Maha Viharaya which secured the Anuradhapura period. In addition to that it also mentions the fact that this period secured Theravada Buddhism.

'Danno budunge' literally means 'of knowing the Buddha's Dhamma' and from there onwards the entire song depicts how Anuradhapura becomes the heart of Buddhism in Sri Lanka. The music itself is quite fascinating and it was done by Vishwanath Lauji.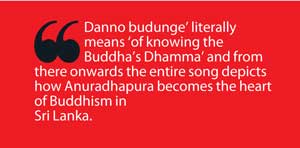 John De Silva only wrote the lyrics and these words cannot be found in any other song. Therefore with the combination of these two personalities, they managed to invent one of the richest forms of music in the world. It's a song that highlights true patriotism which talks about a 'Land of hope and glory' as in England. This is why it is also acknowledged as the second national anthem in the country."
"I sang with all due diligence" :

Kishani Jayasinghe
Q As an opera singer who has mainly performed overseas, do you think there is a satisfactory audience in Sri Lanka who accepts this genre of music?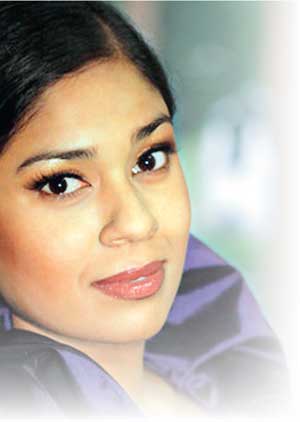 It's relatively a new experience. It does come with what you think, your ideas, family etc. But every time I have done a show, I have received tremendous reception. There is a multitude of different music genres, but I have been training for the past 10-12 years to be an Opera singer. Perhaps there is a need for more awareness and the need for people to access it. This is why I started the Colombo Opera Company because I feel that people need to be educated about Opera. Thereby I feel that I will make opera available for the people.

Q Opera is a western style of music. Some critics say that the influence of Opera would distort the Sri Lankan culture. Your comments on this...
Culture is always evolving. We have different interests. Opera originally began in the west but later it was introduced to Asia and other parts of the world. There's Opera in Australia, North America and you can also find Opera Houses in Asian countries such as China, Japan, Hong Kong, Korea, and Taiwan. There is a wide range of popularity for the westernisation of culture. Once you have had a negative first impression it is very difficult to look at something with an open mind. And that is what has exactly happened. But ultimately culture has to evolve and then only will it survive.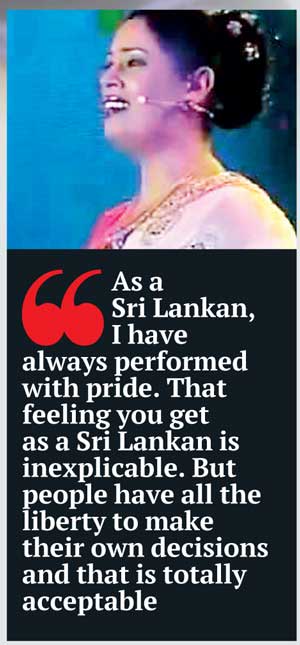 Q How was the feeling after you performed at the Independence day cultural show?
It was such a feeling of enjoyment. There was a pin-drop silence at the Galle Face Green. I was actually shocked to see such a reaction from the audience because it was an open air event. The applause and the appreciation which I received afterwards was phenomenal. During rehearsals, I remember when the soldiers were setting up the stage etc., they paused for a few moments, sat down and were observing my performance.
I was greatly moved by this reception. That day on stage, I was coordinating with the instrumentalists to add a bit of glamour to the song and make it more beautiful as ever. There was a huge appreciation for the song and there were not any sort of cat-calling as mentioned in some media. I also should mention the fact that I sang a few other Sinhala songs that day, which included Matara gange kimbulige patiya, Doiya baba, Badagini wela ma giya kala and Namo Mariyani. But sadly this was not mentioned anywhere. The song 'Danno Budunge' has become a part of the fabric of education and it is not just another song. I did not change the lyrics or the melody but the pitch was different because I sang at a higher range. I had spent 12 long years training to become an opera singer, and therefore, I thought that it was best to sing this song in opera style so as to serve justice to it from my part.

Q Other than this incident, had there been instances where you were widely criticised before?
This is definitely the first! Of course I started my career as a lawyer and then moved on to singing and then there was a bit of anxiety which followed. Actually people were curious to know whether I should really give up a promising career for singing. So there were different ideas and views but I had never been criticised like this. I never even thought of performing at Covent Garden but it just happened. As a Sri Lankan, I have always performed with pride. That feeling you get as a Sri Lankan is inexplicable. But people have all the liberty to make their own decisions and that is totally acceptable.

Q The song 'Danno budunge' has a questionable history. But people started to criticise you without this knowledge. Does it seem to be fair after all?
I schooled at Visakha Vidyalaya, and according to my memory, it is one of the first songs that I have sung. It wasn't part of a music lesson but it was part of our education. It is a song that is only second to our national anthem. People haven't done their research. But in the end it's good to know where it originated from after all. I sang it with all due diligence.
Opera is an intricate form of art. We have to perform in 2000-3000 seat concert halls with no amplification. Opera is always 3-pronged, which means you need to have music, drama and movement to add more colour to the entire performance. As people say, I don't think I distorted it in any way. In fact at one time, when I sang the part 'Anuradha nagaraya' I got my hands together because that is what you always do when you visit Anuradhapura.

Q What are your views about the Sri Lankan music industry?
It is extremely fascinating. There are so many talented musicians who are experimenting new forms of music and I see that they are working very hard to retain our cultural identity. Sri Lanka is such a little island but people have always excelled in various fields. In fact I too would like to work with some of the eminent musicians because it is quite interesting.