---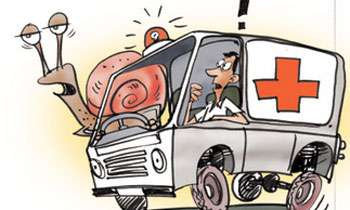 An ambulance driver who was entrusted with the task of taking a patient from the Galgamuwa Atharagalla divisional hospital to the Kurunegala General Hospital for further treatment had diverted from the route to transport a grass cutting machine to his residence, a delay that cost a farmer his life.
The health officer in charge of the Atharagalla divisional hospital Dr. A. M. N.S. Bandara has requested an inquiry into the incident from the Provincial Director of Health Services and the District Health Director.
Sources revealed that 54-year-old farmer G.R. Gunathileke, a father of two, had suddenly fallen ill and was taken to the Atharagalla hospital. After the doctors examined him they had found his condition to be serious and ordered that the patient be transferred to the Kurunegala General Hospital by ambulance.
The patients wife, I.M. Dammika Kumari (44), said that while her husband was being taken to the Kurunegala General Hospital in the ambulance the driver had taken a different route in order to hand over a grass cutting machine to his house and by the time the ambulance finally reached the hospital they had found that her husband had died inside the ambulance. She said the driver's delay in getting her husband over to the hospital for the death of her husband.
Dr Bandara said that he received a call at about 8.30 pm telling him that the patient who left the hospital in an ambulance at about 5.10 pm had died. He had inquired from the attendant the cause for this delay, to which he replied that the ambulance had gone through Madagalla and Ibbagamuwa. When questioned as to why the driver had gone out of the way the attendant had replied that as there was a grass cutting machine to be handed over to the driver's home they had deviated from the route.
The driver, when questioned, stated that this was the closest route to the hospital. The patient had died while passing through Ibbagamuwa at around 7.10 pm. The driver had then hurriedly driven the ambulance with the siren on.
Investigations are continuing.(Nihal Jayaweera)