Some UNPers feel that Ranil should enter P'ment on National List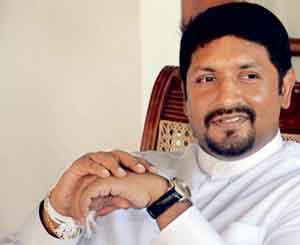 By Shane Seneviratne - Kandy
There is an opinion within a section of the UNP that Leader Ranil Wickremesinghe should enter Parliament through the solitary national list slot which the party has received, UNP Deputy Leader Ruwan Wijewardene said yesterday.
Mr. Wijewardene told a press conference in Kandy that the party had discussed the matter during a meeting held at Sirikotha on Saturday, November 21.

Also, he said UNP will reorganise in all electorates in the days to come. "We will travel across the country and reorganise the party as time has come to lift the fallen elephant," Mr. Wijewardene said.

He said the government does not have sufficient funds to implement proposals in the budget though there are some commendable proposals in it. "It will not be possible to implement proposals especially in the agricultural sector as there are no sufficient funds," he said.

"The government rejected the request made by our leader to focus on fisheries sector and apparel sector as these could be hit by COVID-19 pandemic. His proposal to increase PCR tests has also been turned down. Ranil's leadership is needed to pull the country through from the present crisis," he added.