---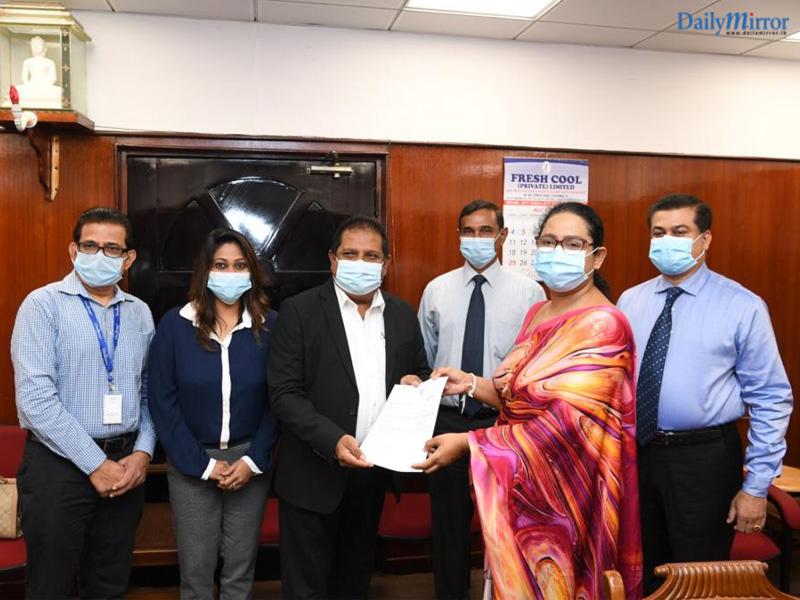 The picture shows Aruna Mawilmada, Customer Development Director, Unilever Sri Lanka (3rd from left) handing over the agreement to Pavithra Wanniarachchi, Minister of Health, Nutrition and Indigenous Medicine. Also in the picture are (From left) Gerard Irudayaraj, Supply Chain Director, Unilever Sri Lanka; Sharmila Bandara, Marketing Director - Home Care, Food, Refreshment and Water, Unilever Sri Lanka; Janaka Chandraguptha, Additional Secretary to the Ministry and Kanchana Jayarathna, Private Secretary to the Minister.
Unilever Sri Lanka offered Rs.13 million worth Ventilators and PCR test kits to the Ministry of Health as part of its ongoing efforts to support the nation in its battle against the Corona Virus (Covid-19) pandemic. This comes in addition to the previously committed sum of Rs.35 million to fight the virus in the country.
A team of senior representatives from Unilever Sri Lanka handed over the medical equipment to Hon. Minister of Health and Indigenous Medicine, Pavithra Wanniarachchi, on behalf of Unilever Asia Private Limited.
In previous efforts, Unilever contributed Rs.20 Million towards public awareness, hygiene and sanitation efforts across the country through its flagship hygiene brand Lifebuoy, Rs.10 Million to the COVID-19 Healthcare and Social Security Fund and Rs.5 Million worth of Relief measures comprising of Personal Protective Equipment (PPE), Masks and Free Essential Unilever products.
"We are inspired by the resilience and compassion of Sri Lankans around the island who continue to exemplify the power of collective action, "said Hajar Alafifi-Laadel, Chairperson & Managing Director of Unilever Sri Lanka. "Expressing our sincerest gratitude to the Government, health authorities and all other frontline teams who continue to work relentlessly to battle the pandemic and enable the swift revival of Sri Lanka. We would like to reaffirm our commitment to supporting them in this regard."