---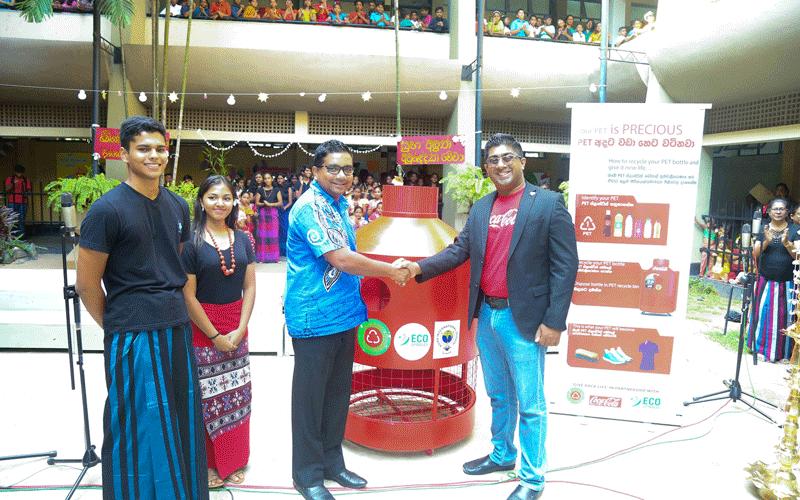 Asian International School Principal Harshana Perera and Coca-Cola Beverages Sri Lanka Ltd Public Affairs, Communications and Sustainability Country Manager Lakshan Madurasinghe shaking hands in agreement to the Give Back Life initiative while Asian International School Head Prefects Shahane De Silva and Hemali Ratnaweera look on
Enthusiastic students from Asian International School (AIS) recently came onboard Coca-Cola Sri Lanka's 'Give Back Life' project by volunteering to bring all PET plastic packaging to school for recycling.
This initiative by the students from the Asian International School was inaugurated during their Sinhala and Tamil New Year school assembly and ensuing festivities, where the 'Give Back Life' initiative was given prominence to inculcate the habit of recycling amongst all students, teachers and management of the school.
Buoyed by the overwhelming response by the students to be part of this initiative and to ensure its long-term sustainability, Coca-Cola proudly connected their 'Give Back Life' programme with the Asian International school to not only collect all PET plastic within the school premises but also the critical recovery of household PET plastic.
Through this exciting partnership, all PET plastic packaging, such as beverage bottles, will be collected using the bins provided by Coca-Cola and thereafter collected and recycled by Eco Spindles (Pvt.) Ltd to produce brushes and yarn at their state-of-the-art plant in Horana.
Commenting on the initiative, Asian International School Principal Harshana D. Perera said: "I am proud to see how the students in the school have taken it upon themselves to carry out and promote PET plastic collection and recycling. This gesture has raised awareness amongst the students about recycling and disposing litter responsibly. I would like to thank Coca-Cola and Eco Spindles (Pvt.) Ltd for partnering with AIS in this much-needed project to Give Back Life to PET plastic. Giving another purpose and life to PET packaging is a wonderful opportunity for all of us at the school. I encourage the youth in our country to make this valuable commitment and in the process protect the nation's environment."
"Committed to deliver a future 'World Without Waste', Coca-Cola in Sri Lanka is encouraging all to 'recover and recycle' PET plastic. Sri Lanka's youth is showing commitment and pride in conserving the flora and fauna of the country and Coca-Cola's 'Give Back Life' project further entrenches environmental consciousness amongst the future leaders of our nation. By whole-heartedly participating in recycling PET plastic, the students of Asian International School are taking ownership of their motherland through a sense of citizenship," said Coca-Cola Beverages Sri Lanka Ltd Public Affairs, Communications and Sustainability Country Manager Lakshan Madurasinghe.
In recent months, Coca-Cola Beverages Sri Lanka Ltd has been ramping up its 'Give Back Life' project to make a deeper and wider impact on society by joining hands with key partners to instil the habit of recovering and recycling PET plastic. Simultaneously, the project also drives home the fact that PET plastic is 100 percent recyclable a big driver for the circular economy and is used in many other products besides bottles, including brushes, textiles and carpets.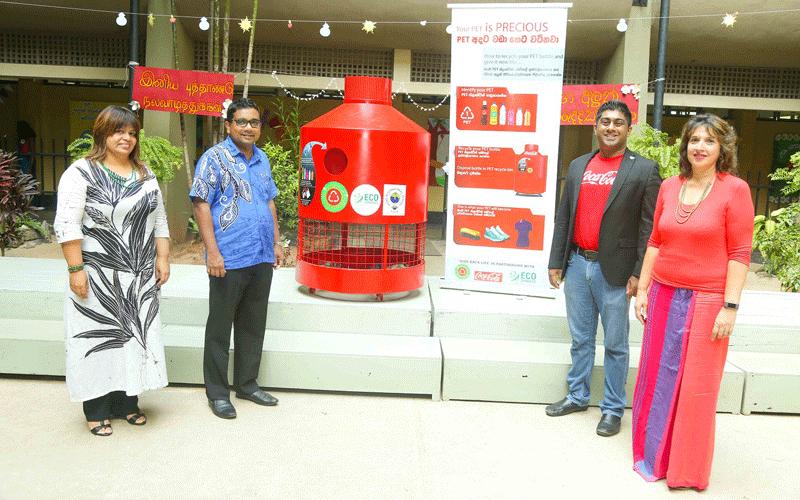 From left: Asian International School Junior School Head Aasha Jaleel, Asian International School Principal Harshana Perera, Coca-Cola Beverages Sri Lanka Ltd Public Affairs, Communications and Sustainability Country Manager Lakshan Madurasinghe and Asian International School Vice Principal Sandra Gomes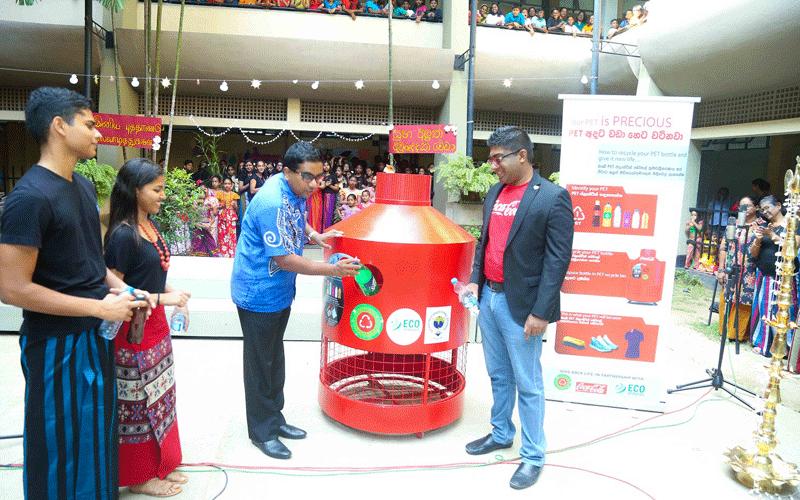 Asian International School Principal Harshana Perera putting the first plastic bottle into the PET bins while Coca-Cola Beverages Sri Lanka Ltd Public Affairs, Communications and Sustainability Country Manager Lakshan Madurasinghe and Asian International School Head Prefects Shahane De Silva and Hemali Ratnaweera look on