---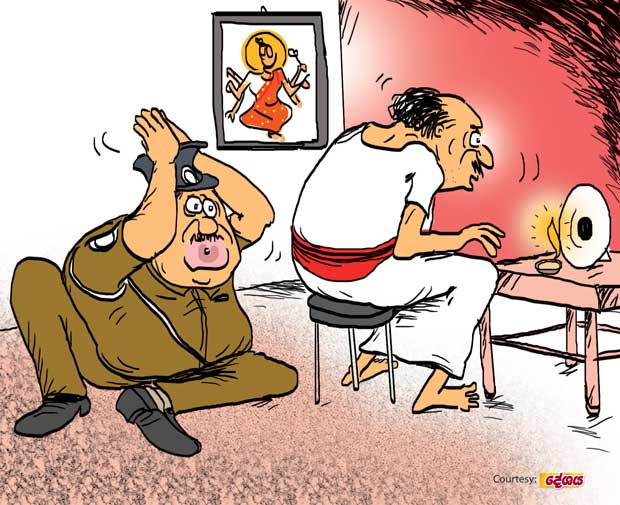 The battle for the main Police chair continues with the main aspirants relentlessly pursuing their goal.

Meanwhile, reports say that the government is seriously considering three names.

By the way, a certain hopeful approached an astrologer cum occult practitioner in the Kaduwela area to ascertain whether he stood a chance of getting the coveted post. The astrologer who did a light-reading and a 'Nimitta' calculation came out with the vague prediction that the most qualified of the main three aspirants would be selected for the post. The aspirant then asked the astrologer to give the name of the most qualified person who was due to be selected for the appointment.

The astrologer in response gave the aspirant a betel leaf and asked him to guess the name of the person whom he thought would get the post and come back in five minutes.

The aspirant guessed a name and returned. Then the astrologer went into a 'fit' and said: "You guessed right. The person you guessed is going to get the post!"

On hearing the astrologer's prediction, the aspirant's face turned ash grey.

It was a highly dejected aspirant that had come out of the astrologer's light-reading cell, they say.
While on his way home, he confided in his companion that he guessed another aspirant's name hoping it would prove wrong and the prediction only confirmed his fear that the latter would be finally selected for the post. Nevertheless, he did not reveal who he had guessed would get the post.