---
The national aluth sahal mangalya (new rice festival) was held at the Jaya Sri Maha Bodhi precincts under the patronage of Number One the other day.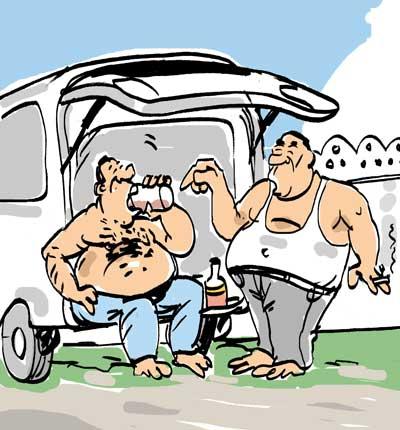 While the highly revered ritual of symbolic offering rice to Jaya Sri Maha Bodhi was in progress, the drivers of the VIP vehicles had been liberal with the bottle inside a deluxe Ministry vehicle parked in the sacred Bodhi premises. After having a few drinks too many, they all had taken a nap after switching on the vehicle's air-conditioner.

Meanwhile, a khaki high-up overseeing the security arrangements, having noticed the vehicle parked in the precincts had peeped into the vehicle to find to his surprise several persons strongly smelling of liquor sleeping inside. He had wakened the drivers and faulted them for their conduct in the sacred premises. The drivers' insolent reply had been: "We are Lokka's people. We are here on his instructions!"

The khaki high-up had quietly walked away without further ado, they say.