---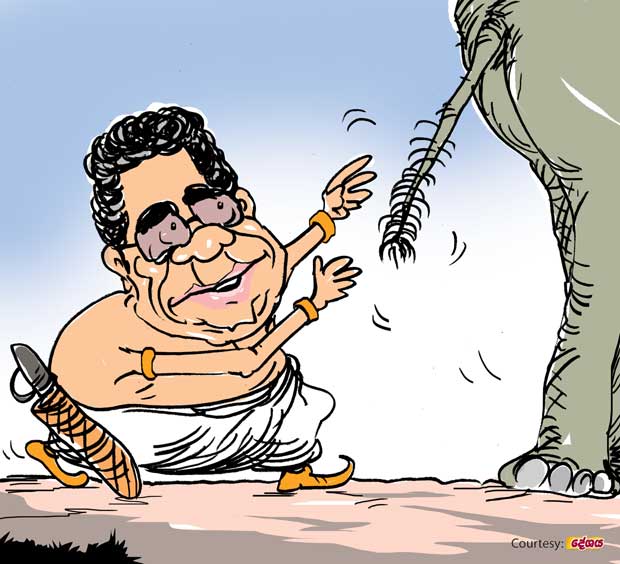 A former purohita who calls himself a direct descendant of King Dutugemunu is poised for yet another political somersault, they say.

The man from Ruhuna cut his political teeth as a Blue party activist. He later turned Green and again jumped back to the Blue party at the most opportune moment. His posture as a die-hard loyalist of the former strongman soon paid dividends when the man was elevated to the top team level. His shenanigans while functioning as the party's organizer in a sacred area close to the city drew such public reproof and repugnance, the Betel leaf bigwigs dared not giving him nomination at the last general polls. By the way, he had reviled the Green party so much, he could not approach that party either. Having thus been left out in the cold, the man remained out of public eye for some time.
Never content with being a nonentity, the man had recently sent in feelers to the Green leadership and had received a positive response, they say.

The Green leadership finding in him an ideal candidate to serve as an irritant in the side of the dominant political family in Giruwapattu is said to be planning to offer the turncoat a post of organizer in Tissamaharama area.

The Green chief's plan to appoint the discredited politico as a party organizer is reportedly aimed at downing several birds with one stone. However, another Green stalwart who has already put down his roots in Ruhuna may not take kindly to this move, they say.

Meanwhile, some party seniors say that the Green chief's proposed ploy is sure to blow up in his face like many of his previous ones.