---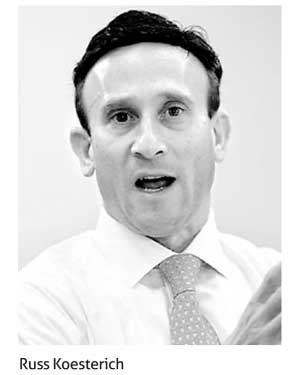 REUTERS: The U.S. Federal Reserve is likely to raise interest rates two or three times during 2016, BlackRock's top investment strategist said yesterday.
Russ Koesterich, BlackRock's global chief investment strategist, told reporters during a Tokyo visit that the dollar is likely to strengthen against the euro and the yen, helping to support share prices in Europe and Japan.
"We believe that the Fed would be gradual in terms of their tightening cycle," said Koesterich, after the Fed hiked benchmark interest rates on Wednesday for the first time in nearly a decade.
He said he expected "some flattening" in the yield curve in the U.S.
"We think that long-term rates will be fairly constrained," he said, adding that BlackRock's year-end target for U.S. 10-year Treasuries is about 2.75 percent.
The benchmark 10-year Treasuries yield stood at 2.245 percent yesterday.
"We do believe that the dollar will continue to appreciate against the euro and the yen, although probably more against the euro than against the yen," said Koesterich, without giving specific targets.
Koesterich added that they see better valuations in European and Japanese equities, while taking a cautious stance towards U.S. stocks.
"We believe that Japanese equities will continue to rise. We think it is reasonably valued. We're encouraged by improvements in corporate governance, earnings per share growth, higher ROE (return on equity)."
BlackRock is the world's largest asset manager, managing $4.5 trillion globally at the end of September.