---
Maithripala is the best person to contest the Presidency and win
In an interview with the Daily mirror, opposition parliamentarian Arjuna Ranatunga alleged President Rajapaksa was protecting corrupt politicians and that he should take responsibility for the rampant corruption in the country. The former cricket captain also lamented the sport has been highly politicised and that it was in ruins because of interference by the present regime.
QWhat are your reasons for supporting the common candidate, Maithripala Sirisena?
There are lots of issues. If you analyse what has happened in the country over the last five years after we won the war, it will be clear to you. While the level of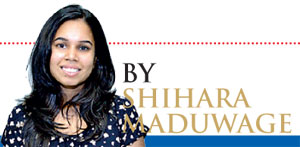 government corruption is unbelievable, law, order and democracy are facing major problems. The cost of living has soared. The main concern is the Presidency where one person is having all the power rather than a group of people in Parliament. The country is on a dictatorial track. So we feel that there has to be a change. We have been working toward that goal for the last year and a half and now we have got a decent, honest and clean person to contest the present president.
Q Are you confident that Mr. Sirisena will be able to tackle all the issues you mentioned earlier and bring the country on track?
I think so. I have known him for a long time. His main strength is that he is not a corrupt person. He has been in politics close to 50 years and there had been no issues [to stain him]. When I was in the SLFP, I realised he was one person who was trying to protect the SLFP and the Bandaranaike policies which have been thrown to the trash bin by the present regime. So to have the old SLFP culture back, I feel that he is the best person to contest the president and win.
"I have known Maithripala Sirisena for a long time. His main strength is that he is not a corrupt person. He has been in politics close to 50 years and there have been no issues to stain him"
Q You mentioned about bringing back the 'old culture of the SLFP.' However Mr. Sirisena is not contesting from the SLFP but from the Common Opposition. And the main party in the opposition is the UNP. So how is he to bring in the old culture of the SLFP if the UNP rises to power?
If you look at the original culture of the UNP – the DS Senanayake and the Dudley Senanayake culture – it is quite similar to the Bandaranaike policies. It is sad that especially with the open economy things have taken a different turn. I feel that Mr. Sirisena can correct these areas because he will take into account both UNP and SLFP policies rather than thinking about himself. Usually it is 'me, me and me.' For Maithripala Sirisena it is not me; it is us.
Q Do you believe that Maithripala Sirisena can secure a victory in the election?
Absolutely. A lot of people in the country are talking about a change. The strength that the present president had was from the villages but that position is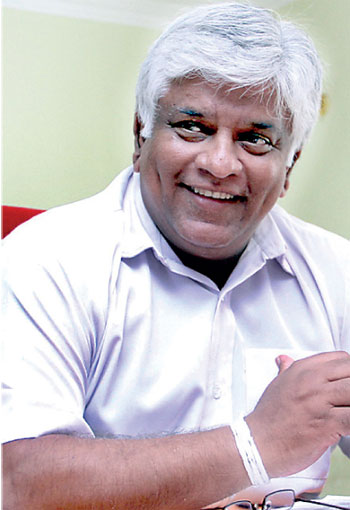 changing rapidly. Everyone has realised if the corruption in this country is stopped, money benefiting a few people can be used towards development. Once corruption is under control, the cost of living can be brought down [alongside development] without politicians filling their pockets.
Q Who played the main role in Maithripala Sirisena's crossover and how did this political twist take place?
A lot of people played roles in his crossover. I was a part of that operation as well. There were some potential names in rotation for the position of the common candidate. We had Mr. Sirisena's name in mind but we did not want to make it public. Till the last minute no-one knew that he was going to represent the Opposition at the presidential election. I think it is a huge achievement by the people who were able to persuade him to come to the front.
Q A lot people believe that it was Chandrika Kumaratunge who played the main role in Maithripala Sirisena's defection. Is that true?
Well, she was a part of the main group that convinced him.
Q Don't you think Mrs. Kumaratunge's role in the Opposition will do more harm than good because people would view her as someone who has already had her chance?
Mrs. Kumaratunge is not contesting. She still has a SLFP vote base especially in the villages where she is very popular: the Bandaranaike name cannot be erased. She has invested time and effort in this election unlike the last time. At the last presidential election, she gave her blessings to the candidate, but she is very much involved in capturing as many SLFP votes as possible [ for Maithripala Sirisena] in this election.
Q Which political party are you identified with?
I am still with the Democratic National Alliance. That is the party from which I was elected to Parliament.
Q You have had some issues with the leader of the Democratic Party and last common opposition candidate Sarath Fonseka?
Yes, I left him a long time ago. I realised that I cannot do politics with him because his thinking and policies were not right for the people or the country. We need to identify proper political leaders and try to work with them.
Q But now he is part of the Common Opposition again. So have you been able to put aside your differences and work together?
We have our own agendas but as far as the Common Opposition is concerned we have a common agenda agreed to by the leaders. If one can work on those lines, he can join the group. So people in the Opposition have a duty to work together; they don't have any other options. However, I can say that Maithripala won't be a puppet; the main powers will be with the Parliament.
Q What is your opinion on some of the crossovers that have been taking place lately?
There are two sides to this. On one side are people who leave everything behind– power, perks, everything – and join a group which is trying to get the country on the right path. Their only gain is that the country will see them as honest and proper politicians. On the other hand there are people who leave the Opposition to join the government for money, positions and other perks. We saw that when the general secretary of the UNP joined the government and got a ministry right away. I don't know what other perks he got. People can understand the difference between a proper politician who works for the country and unwanted politicians who don't have any discipline and get into the government for their own benefits. This is the way I see it.
In crossing over, there are also Opposition MPs who are struggling financially and when they get lucrative offers I am sure they would not be bothered about their political careers. They will grab as much as possible for themselves. So what I feel is that the chance we have to get the country right is being blocked by perks and money.
"This government has ruined cricket. If you are a politician in government or a son of a minister you will have more chances to play for the country than a top cricketer who doesn't have political ties"

However, people who have already crossed over from the Opposition [to government ranks] don't have a huge vote base. And there are government members who cannot crossover because there are files on them, according to the president. From this people can understand that corrupt politicians who are being protected by the president continue to have a luxurious lives in the government. So honest people will join the Opposition while corrupt politicians who have files will remain with the government.
But, people will get an opportunity at the General Elections to get right politicians into Parliament.
Q When you decided to extend your support for Mr. Sirisena, did you put forth any conditions?
The only thing I wanted him to do was to put the country right, stop corruption I was fighting against for so many years. Even when I was in government as a deputy minister I fought for this alone. But, when I realised I cannot do that by remaining in the government I left it and joined the Opposition.
Q Now, a lot of people who have said they are not crossing over have in fact crossed over. So are you planning to crossover at any point?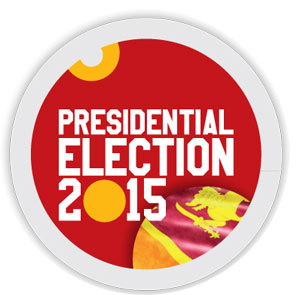 No I am not. Many people have spoken to me and tried to convince me theta I should, but I have my principles and policies. I don't have a personal grudge against the president; in fact I respect him in a different way. He was very close to me when I was playing cricket but he is not the same Mahinda Aiya now. Mahinda Aiya was a very nice human being but I think he should take the responsibility for some of the things happening today. People might try to put the blame on ministers and officials but if the leader is not strong and cannot stop corruption, then who can put an end to all these unwanted practices? So the president should take more responsibility than anyone else.
Q: Your brother Prasanna Ranatunaga is the chief minister of Western Province and he is in the SLFP. Will this affect your loyalties? Whom you will support then?
He is supporting the government and I am supporting the opposition. We are not kids; my brothers should accept where this country is going truly. The day that reality sinks in, I am sure they will take the right decision if they love the country. I am not pushing any of my brothers.
Q: Recently you raised concerns that cricketers were being used for election propaganda. Could you tell me exactly what your concerns are?
A number of cricketers have spoken to me about being pressurised to appear in advertisements to support the president. I don't think I should mention names because then those boys would be dropped from the team in no time because cricket has been politicised so badly in the past few years – starting with the president getting Sanath Jayasuirya to contest while he was still playing cricket for the country.
Some cricketers though to be weak are targeted and pressurised to comply [ with conditions] for personal benefits and agendas including huge salaries without realising the damage they do. They are politicising all sports- mainly cricket. I feel uncomfortable to watch the way some cricketers are acting without thinking of our cricket. It hurts but I know that when you get hold of someone weak, politicians have a chance to use them.
"Some government members cannot crossover because they have files, according to the president. From this people can understand that corrupt politicians are being protected by the president "
Q: Let's talk about the scandals in cricket – especially the allegations levelled against the cricket board and the recent sex bribes scandal. What are your comments on this?
Cricket has been severely politicised from the day this government came into power. Even the people who are elected to the cricket board have to get blessings from the president and the government. People who are in the opposition have to support the president to get into the cricket board . Because of politicisation, the Sri Lanka Cricket went bankrupt. This particular government has ruined cricket. If you are a government politician or a son of a minister you will have more chances to play for the country than a top cricketer who doesn't have any political ties. It has never happened in this country before.
With the sex bribes scandal in the women's cricket team, I don't know if the guys who have been accused have a vote base. But people in the cricket board don't want to give them any punishment for a vote or two. The major issue is that people who are not eligible to run [the country's] cricket are running cricket because of the politicisation of cricket.