---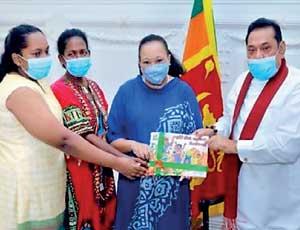 By Sandun A Jayasekera
Prime Minister Mahinda Rajapaksa said he placed special emphasis on strengthening relations with Africa during his presidency but unfortunately, work was dismantled by the previous administration.

He added that he was keen on re-establishing a close relationship once again with African countries. In honour of the Africa Day 2020, Prime Minister Rajapaksa met with a delegation of African heads of mission in Sri Lanka at Temple Trees yesterday and discussed on further strengthening relations between Sri Lanka and African countries as well as issues faced by the small community of Afro-Lankans living in the country.

High Commissioner of South Africa in Sri Lanka- Robina P. Marks, who led the delegation, said even though all countries were facing difficult times due to the COVID-19 pandemic, Sri Lanka and Africa should look forward to creat new opportunities that may emerge as a result of the outbreak as a way of strengthening relations.

The delegation thanked Prime Minister Rajapaksa for prioritising improved relations with Africa during his presidency. Sri Lanka obtained Accreditation Status in the African Union in 2014 and expanded its diplomatic presence in Africa, which helped further cooperation with the region. Prime Minister Rajapaksa, during his Presidency, made a number of official visits to African countries, including Tanzania, South Africa, Uganda, Kenya, Seychelles and Libya.