---
UNESCO commissioner returns to see his Polonnaruwa teacher at the Temple of the Tooth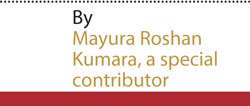 Kandy:Almost forty years ago, Prof. Patrick Mendis of the United States was a student of C. W. Karunaratne at the Palugasdamana Maha Vidyalaya in Polonnaruwa. "I have always been thinking of him," said Prof. Mendis, now a commissioner to the US National Commission for UNESCO at the US Departmentof State in Washington. He recently visited his 'favorite teacher.'

Karunaratne is now the Secretary General of the Sri Dalada Maligawa (the Temple of the Tooth) and a Board Director of the Sri Lanka International Buddhist Academy (SIBA) in Kandy.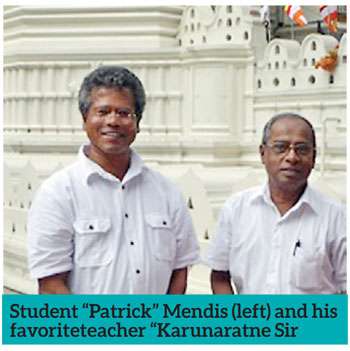 At the invitation of SIBA, Mendis once gave a lecture on "Buddhism and China-Sri Lanka cultural relations" at the Academy. A research associate of the Fairbank Center for Chinese Studies at Harvard University, the professor is an alumnus of the Harvard Kennedy School of Government and the Humphrey School of Public Affairs at the University of Minnesota. He is also a first-class honours degree graduate of the University of Sri Jayewardenepura.

"Karunaratne sir," as Mendis still calls his teacher, "had a remarkable influence on my life at Palugasdamana. After sitting for my GCE A-Level Exam in 1978, he is the one who took me to Colombo for my AFS (American Field Service) scholarship interview," recalled the US commissioner.
"He is one of my many revered mentors who made me who I am today,"added Mendis. Others include the late science-fiction writer Sir Arthur Clarke, Dr. A. T. Ariyaratne of Sarvodaya, former UN Undersecretary General Jayantha Dhanapala and Ambassador Karunasena Kodituwakku, who is currently in China. "I am very grateful to them and other teachers and mentors, including several Catholic priests and Buddhist monks, who enriched my life during those formative years," said the Harvard scholar.

Before he became a naturalized US citizen, Mendis served as Sri Lanka's "Youth Ambassador" to the United Nations in New York. Without the support of his former mentor and friend, former Vice Chancellor (now ambassador) Kodituwakku of the University of Sri Jayewardenepura, "I couldn't have gained that kind of valuable experience at the UN," said former Ambassador Mendis.

Mendis developed a life-long friendship with his future mentor, Ambassador Jayantha Dhanapala, who served as the UN Undersecretary in New York and the Sri Lankan ambassador to the United States in Washington.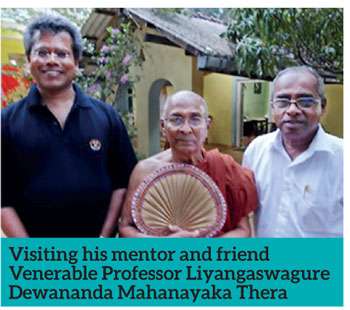 Mendis also kept a "family-like" relationship with his other mentor, Dr. A. T. Ariyaratne.
In 1994, he also endowed the Patrick Mendis Prize at the University of Sri Jayewardenepura. The annual prize recognizes a student with outstanding leadership and academic achievements. "This was my way of thanking my university," said the UNESCO commissioner, who was the chief guest and the keynote speaker at the University of Sri Jayewardenepura's International Conference on Business Managementin 2017.

To express his gratitude Mendis has also established the Millennials Award for Leadership and Service at Harvard University in Boston and the Edward Burdick Legislative Award at the University of Minnesota in Minneapolis.

After leaving Minnesota he worked in the US Senate Foreign Relations Committee during the President Ronald Reagan administration in Washington.

These government and academic assignments have taken him to over 30 countries.During these years, Mendis has authored more than 150 books, Government reports, journal articles and newspaper columns.

In a foreword to his book, Glocalization, the late Sir Arthur Clarke wrote, "The author, Dr Patrick Mendis, is an American academic and diplomat originally from Sri Lanka – my adopted country for half a century. In fact, we share a lot more than just our passion for Sri Lanka. He and I are both Fellows of the World Academy of Art and Science – I first got to know Patrick when he visited me with his American mentor, Ambassador Harlan Cleveland, who was President of the Academy for several years."