---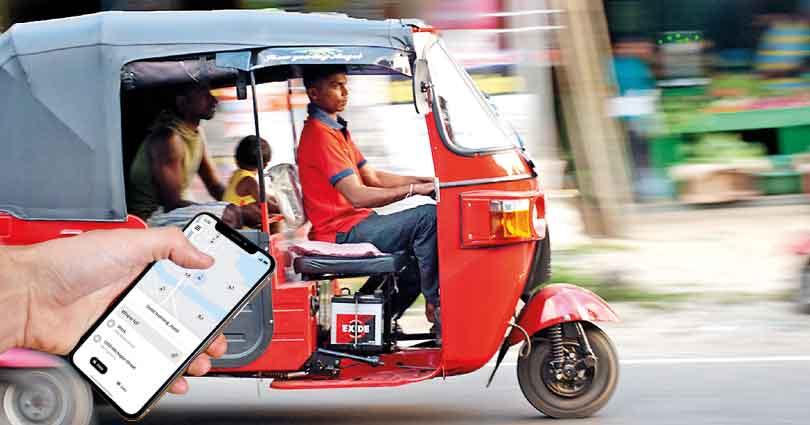 The introduction of transport Apps have made life easier for all of us. Apart from being convenient and budget-friendly, privacy and safety are top concerns for any user. Today, there are many of these services available for users including local and foreign Apps. Uber is one of the Apps that gained much popularity with time. People pay for a service to get maximum out of it or the least they could expect is to contact customer care. But it was quite later that users of the Uber App found out that there is poor response to queries on lost items. Thereafter, on several occasions users took to social media to complain about drivers, who have charged extra while a few cases were about drivers showing arrogance when users opted for card payments. In what one would call an extreme case, recently one user was assaulted for querying on the cancellation fee.
Hence the Daily Mirror sheds light on a few incidents reported from Sri Lanka and Uber's newly released Safety Report.
---
Uber Sri Lanka has no customer service representatives
Drivers are aware that no prosecution takes place
3,045 assaults and nine murders according Uber's U.S Safety Report
---
Deviating standards
When Uber, the U.S-based multinational ride-hailing service was introduced in Colombo back in 2015, users were in for a treat with various vehicle options to travel from at a considerable rate. Initially it started off as the easiest option available and was competing with local taxi-hailing apps. From time to time users have complained about Uber not having an option of card payments and in case an item is lost, drivers weren't quite responsive or helpful in trying to bring the lost item back. Such careless incidents were happening on a mild note until mid 2019 when users realised that they couldn't directly contact the driver anymore. When a driver reaches the location, a landline would appear on the screen and if the rider wants to contact him, he or she could ring that number which then gets diverted to the driver's phone. Making things worse, several incidents of Uber drivers assaulting and verbally abusing riders were frequenting social media. The least that a customer could do was name and shame the driver on social media as there is no customer care centre in Sri Lanka.
Uber has to look into screening drivers. This includes pre and post recruitment procedures
Be more vigilant when travelling with Uber
In an exclusive interview with Daily Mirror, Mr Mahesh Pieris recalled the horrific incident that had occurred to him on the night of November 24. After meeting a childhood friend at Hokandara, Mr Pieris had booked a tuk via Uber to take him home. Though he had entered the exact location to pick him up, the driver had called and told that he (the driver) was at a different location and a few minutes later, the driver had cancelled the booking. Undeterred, Mr Pieris again booked a tuk via Uber and the driver had arrived after a few minutes. Whilst travelling, Mr Pieris received a notification that he had to pay Rs.50 as cancellation fee and that was when he realised that the driver with who he was travelling now was the same one who cancelled on him minutes prior. At that moment, Mr Pieris thought it was best to talk to the driver regarding this. "I told him to stop because I had something to ask him. I wanted him to stop because I wasn't sure if he could hear me over the sound of the engine. I told him that I had been charged something extra due to the cancellation and he rudely asked me if there was any problem with that. I told him not to get harsh and to talk properly. He told me that he could just drop me off right here and for me to not to teach him how to talk. I told him to drop me off at where he picked me up, which was just a few meters away as I didn't wish to travel with him anymore," Mr Pieris recalled.
It was at that moment, the driver had become violent. He had stopped the tuk and grabbed Mr Pieris by the shirt collar and dashed his head on the steel bar that separated the driver from the passenger seating area. The next thing Mr Pieris could remember was waking up at the Sri Jayawardenepura Hospital. He learnt that he had blacked out on the road and someone had found him lying on the road, bleeding and called an ambulance. He was kept under observation at the Neurology ICU. Mr Pieris was diagnosed with a head injury and currently suffers from imbalance due to the flow of brain fluid through his ear and nose which had resulted from a hairline fracture. He was discharged from the hospital on November 28. His wife had lodged a complaint regarding the incident with the Koswatta Thalangama Police at approximately 2.00 a.m. on November 25. The Uber driver had surrendered to the police on December 5. He was produced to the Kaduwela Magistrate's Court and was granted bail on December 6. Mr Pieris had also gone to the Uber office at Bauddhaloka Mawatha to lodge a complaint and they had asked him to complain via the app. He shockingly realised that Uber Sri Lanka had no customer service representatives nor were there any viable customer safety set-ups in operation in such instances. An Uber Customer Service Representative from India had contacted him and he requested them to cooperate with the law enforcement authorities. It was when he shared this incident on social media, people became aware of the fact that Uber Sri Lanka had no customer service representatives.
According to Thalangama Police OIC Anil Jayantha, the Uber driver involved in the incident was remanded for a day and was released on a personal bail of Rs. 100,000.
Several incidents reported from Sri Lanka
Amasha Samarasinghe, 19, was on her way to university via an Uber tuk when she was quizzed by the driver as to whether she was paying with cash or card. When she had responded that she was paying via card, the driver stopped the vehicle and asked her to get down. Samarasinghe had later complained via the app and received the template response. "I was refunded but I doubt they took any action against the driver. This was very unprofessional.
This incident happened when I was new to the university, so I didn't even know my surroundings," she said.
The same incident had occurred to another university student, Himaza Hilmy. "Though the Uber app provides us with the card payment option, most drivers don't accept it. They come to pick up and the minute they realise it's a card payment, they cancel the ride which is really unfair. It has happened to me many times and I've been left stranded," she stated.
In another instance when a user (who wished to remain anonymous) went to collect extra money charged for her ride she was stopped at the entrance. "The office located down Bauddhaloka Mawatha had around three bouncers and went on to the extent of getting our IDs. It was only when I shouted at them that I got my money back. They even threatened me to file a lawsuit if I wanted to."
From time to time users have complained about Uber not having an option of card payments and in case an item is lost, drivers weren't quite responsive or helpful in trying to bring the lost item back
When Deepanjali Abeywardana asked the Uber driver to drop her at the location she wanted, the driver has claimed that the location she put has been elsehwhere, even going to the extent of verbally harassing her.
"Uber has to look into screening drivers," she said. This includes pre and post recruitment procedures. Then they have to look into the safety of passengers. They take time to respond to certain complaints. When I made my complaint around 9.00 p.m. they got back to me the next morning but some cases can't wait for that long. They may have to put up an office here. On the other hand, drivers are also aware of the fact that there's no prosecution taking place."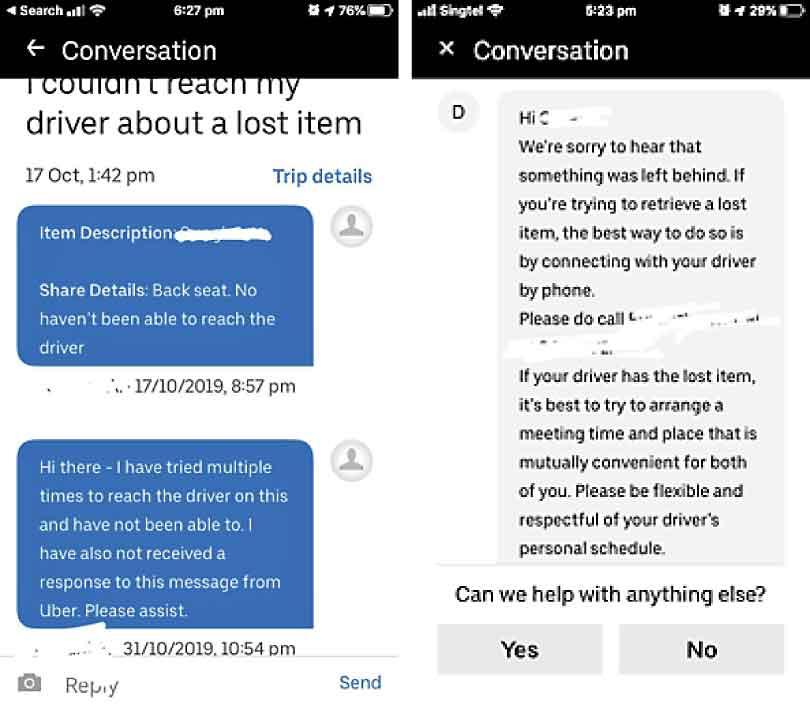 The Daily Mirror also came across incidents where drivers charged extra from users who went on the same trip for a lesser amount frequently. "I usually take a trip from Gangarama to Pepiliyana and the charge is usually Rs. 400-500," the User told the Daily Mirror. But once I got into a three-wheeler and he said that his meter wasn't working and asked me to pay him Rs. 900 instead. I then said he is doing a fraud and he in turn started abusing me in raw Sinhala filth."
Template responses
Once in a while you would forget something in a three-wheeler, but if it is an Uber, chances are high that your requests will not be answered at the earliest. While template responses would be generated, if at all someone is actually replying to a query on a lost item, it would be several months later. The following are a few screenshots sent by users who were trying to contact Uber to locate their items, further proving their rather irresponsible customer service.
3,045 sexual assaults and nine murders : Revelations by Uber's U.S Safety Report
As per the company's newly released U.S Safety Report, Uber had 3,045 sexual assaults reported during rides that took place in 2018 apart from nine murders. In its section titled Sexual Assault Standards, the report further states Uber does not tolerate sexual assault or misconduct from anyone, anywhere, at any time. "Violent offenders have no place in the Uber community and it's our priority to prevent their access to our platform. Uber will ban users from the platform if we are able to obtain a statement of experience from the survivor and/or obtain relevant facts (eg: GPS data, timestamps, videos/photos, in-app communications)," it reads.
Driver verification is not perfect : Uber
Following the incident the Daily Mirror received the following response from Uber : This is a regrettable and concerning incident. Violence is not tolerated on the Uber app and this kind of behaviour violates our Community Guidelines. After learning about what happened, we immediately removed the driver's access to the app. We have also been in touch with law enforcement to assist them with their investigation. Our publicly published Community Guidelines were developed to help make every trip experience feel safe, respectful, and positive and our goal is to hold everyone who uses the Uber app to the same high standards and enjoy a 5-star ride. It also makes it clear that appropriate action is taken in case of violation of the Community Guidelines.
In response to a question asked on how drivers are being recruited, they said that people wanting to sign up with Uber as a driver-partner are required to provide detailed information, including their full name, date of birth, valid driver's license, vehicle registration, and insurance. "The reality is, driver verification is not perfect - local records are not updated and courthouses often don't communicate. And this is exactly why our approach to safety does not start and end with verification, we focus on safety before, during, and after a trip in ways that were never possible before through our tech innovation."
It was when he shared this incident on social media, people became aware of the fact that Uber Sri Lanka had no customer service representatives
Uber's community guidelines lay out our expectations that drivers using the Uber app follow all relevant state, federal, and local laws and the rules of the road at all times. Drivers and riders who violate these guidelines risk losing access to Uber. If there is a clear violation of the safety standards set by our community guidelines, and we immediately remove the driver's access to the app once the incident was brought to our notice. With any serious report of that nature, we immediately block the person's access to the Uber app while we investigate the matter, which includes speaking with both the rider and driver involved. We also work with the police to support their investigation by sharing information such as the GPS record of trips and rider or driver information, to assist them with their investigation."