---
Lalitha Constantine nee Goonesinha, was born on 1st October 1925. She was one of those rare women, a lady to her fingertips. I had the privilege of knowing Lalitha from the time I was a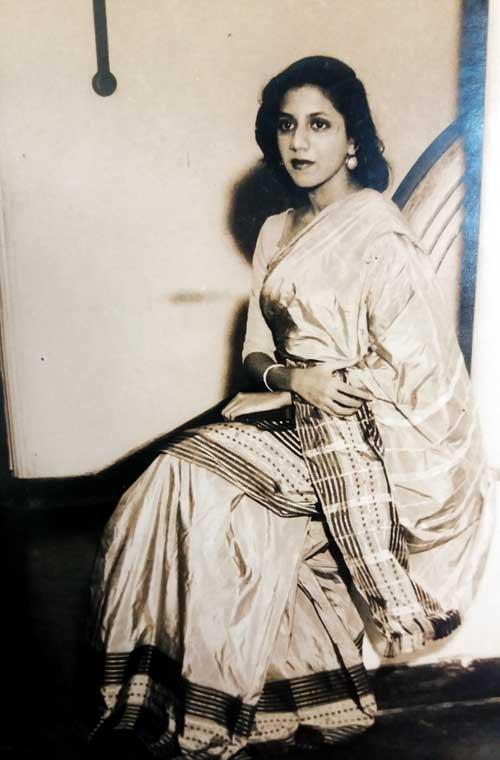 young girl as her family and my mum and her sisters were good friends from the time they were girls. Despite the fact that I belong to her daughter's generation, I counted Lalitha as one of my dear friends. I enjoyed her company and cherished her good qualities, one of which was the fact that she never ever spoke badly about anyone. If she disliked someone, she just avoided them.

The daughter of A.E. Goonesinha, former Labour Leader, Mayor of Colombo, MP, Minister and Ambassador, Lalitha travelled with her family to Indonesia in 1952 when her father was Ambassador in Indonesia and later Burma. In 1959 she went to Vienna and Moscow as a member of the Ceylonese Delegation to participate in the World Youth Festival. Lalitha enjoyed travelling and meeting people of different cultures throughout her life.

She learnt Indian dancing under Sunil Dutt and went on to participate in the Cultural Pageant Ballet together with Keerthi Sri Karunaratne and other dancers on Independence Day in 1948. She was interested in arts and culture. She studied the piano under Mary Billimoria, enjoyed all types of music from Classical, Latin American to Popular music and loved going to concerts and musical shows. She was fluent in French and Spanish. She was always politically alert, enjoyed reading and did word puzzles right upto 5 days before her passing away.
"A very liberal minded person, who moved with the times, Lalitha was kind, resilient and strong"
Lalitha was a member of the staff at the Non-aligned Conference in 1976 and was in charge of Reception / Public Relations at President's House from 1977 until 1989 (during President J.R. Jayewardene's tenure). She had an exciting and fulfilling time meeting world leaders like the Queen of England, Prince Philip, Rajiv Gandhi and several Heads of Commonwealth countries who visited the President at President's House.

Lalitha was devoted to her family, and her daughters Yasmin and Srianthi and son-in-law Johannes will feel her loss sorely. She enjoyed going out, entertaining her numerous friends, loved music and ballroom dancing, and was regularly featured in the fashion pages by Keerthi and Yrol.

A very liberal minded person, who moved with the times, Lalitha was kind, resilient and strong. She was not only a mother but a friend you could talk to about everything.
One of the last women of an era and generation that is fading away, I will miss Lalitha as will all her numerous friends. Gentle and gracious and a Lady at all times, Lalitha is someone who should be emulated by all.