---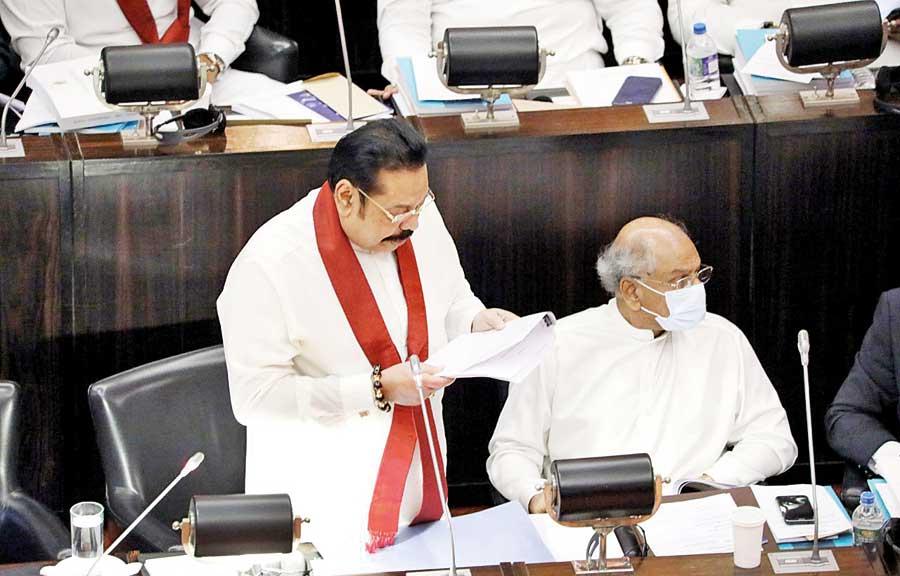 The recently concluded 75th Budget reading was a much awaited event in Sri Lanka's political calendar. As every economy is undergoing a devastatingly difficult time, economic distress too is high. Sri Lanka

was already undergoing an economic crisis due to public debt that had to be paid off and the COVID-19 crisis made it worse. However economic depression won't be resolved only by addressing the COVID situation. Financial experts believe that during an economic crisis, private parties and foreign capital tend to dry up and the role of the state becomes important. But whether all these aspects were effectively addressed in the new budget remain a question.
Overview
According to an analysis by the Collective for Economic Democracy, Sri Lanka's economy was already towards a precipice with a massive external debt, draining foreign reserves, falling incomes and domestic demand. The Asian Development Bank for instance has predicted a GDP contraction of 5% while others have predicted a contraction of 10%. One is not certain if the second COVID-19 wave would continue on to next year or not. Therefore what would be the impact if the government is unable to cover ambitious revenue targets?
Areas such as rural economy, agriculture and food security haven't been addressed adequately. The rural economy currently contributes 7% of GDP and has suffered years of neglect. In terms of food security, although Sri Lanka is almost self sufficient in rice to possibly keep the population from starvation other food imports from wheat to nutritious food items like seafood (USD 215 million), milk (USD 312 million), pulses (USD 138 million) are largely imported. The budget proposes the utilisation of barren and abandoned paddy lands and other to engage in cultivation in the forthcoming Maha season. But farmers in the North for example have been struggling for years to cultivate on these lands.

The pandemic has heightened unemployment and disrupted livelihoods across the country. But the budget isn't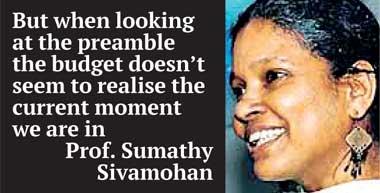 clear on addressing unemployment while increasing the demand for locally produced goods. Expanding on social welfare is important for those on economic margins such as daily wage earners to survive. The budget proposes to open a Samurdhi Life Savings Account for beneficiaries while releasing interest income of such investments from taxes.

During a discussion organised by the Centre, several academics therefore observed that the larger direction presented in the budget is not responding to massive changes happening in the global economic contest. Therefore they suspect whether the budget would have to be revised or whether the government would allow the people to suffer all by them. Another assumption is whether the country lost an opportunity to setup a system to help, manage and survive the pandemic.
Better solutions ignored
Sharing her thoughts at the discussion, Dr. Shamala Kumar, Department of Agricultural Economics and Business Management at Peradeniya University said that the budget hasn't addressed broader problems people are facing. "The budget speech is talking about the youth as a vehicle through which the country will develop. In that sense it seems that the youth are discussed as pawns in the development project. It doesn't seem to show that development is for the youth. We need a budget that's sensitive to problems that people face.

Speaking about budgetary allocations for education, Dr. Kumar drew an example on the budgetary allocation for 'Guru Gedara' – the education channel that was launched during the lock down period. "The way it is framed is like to attempt to address the shortage of teachers in rural schools. But the shortage of teachers is not a COVID related problem. There are better solutions that have been ignored. Therefore the budget doesn't seem to be sensitive towards the suffering of ordinary people. It hasn't discussed the kind of abuse happening in households, lack of access to a mid-day meal and how many families depend on it and the support system provided by the school. As such it doesn't address issues in a holistic manner."
Problematic and myopic
"The budget is a fiscal stretching out of government policy," opined Prof. Sumathy Sivamohan. "But when looking at the preamble the budget doesn't seem to realise the current moment we are in. It has a long term strategic vision to develop Colombo and Hambantota ports, create a tech-based society etc. But it's problematic and myopic as its giving us a long term vision without addressing the short term issues at hand."
"We have been moving towards a crisis exacerbated by protectionism in the West with aggressive loaning, lending etc. In the midst of all that, COVID hit us. Therefore the budget should conserve, provide and think in the long term after conservation. It talks about urban townships but there's very little about urban poor. Activists and academics have been talking about the informal sector but they are talking about housing on a loan scheme. Therefore there's a total disconnect between the realities and the projection," she added.

If we take the field of education, for youth it's about entrepreneurship and an individualistic programme that was there before COVID. It's about taking money from people to ensure money is flowing. But people aren't in a position to throwback into an economy. This is a time people are conserving. People are getting into that bracket because they have to spend on food. As we take it now, this budget is totally disconnected. Today we have to talk about the short term issues, conserve and see where we can go from there."
Ridiculous proposals
According to Dr. Ahilan Kadirgamar, University of Jaffna, this is one of the most important budgets in post-independent history. "Sri Lanka and the world is facing the most severest economic crisis. The International Monetary Fund and the United Nations Secretary General has said that this is a great economic crisis. In fact we have two crises – COVID-19 which is a health crisis that has disrupted our lives and COVID has triggered a serious economic crisis which we characterise as a depression. A recession is two consecutive quarters of negative growth but our analysis is that this is a long lasting depression.
"The budget was to provide immediate relief for those affected by COVID. These include migrant workers, service sectors and people in many other sectors who have become unemployed. But there aren't any provisions of relief for these sectors," he added.

He further said that we cannot pay imports and there's a fall in exports. "The tourism sector is crippled and there's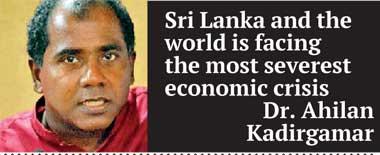 a decrease in foreign remittances. The government projects a 9% budget deficit for 2021. Therefore revenues are going to be 9% less than the GDP and it is a significant budget deficit. There's no plan to address it. The budget has focused on technology, changes in higher education, more of the same in terms of a knowledge hub as if nothing has changed with the pandemic and depression. This is disappointing and there will be consequences on working people."

Dr. Kadirgamar further observed that the budget promises to pay Rs. 1000 for plantation sector workers. "But one has to analyse how it would actually help upcountry people. If people aren't working they won't get it. So many young people in the services sector had to go back home and their earnings are limited. In terms of the issuance of Samurdhi, there's a plan to encourage 25,000 females as an entrepreneurial effort. Under foreign employment the budget proposes to pay Rs. 2 per dollar above the normal exchange rate for the foreign exchange remittances sent by foreign workers to banks in Sri Lanka. These are ridiculous proposals when looking at the current situation."