---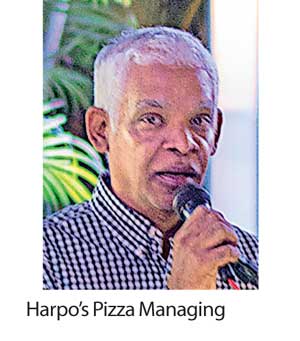 By Zahara Zuhair
Expanding its business, homegrown pizza brand, Harpo's Pizza and Pasta launched online ordering recently. They also launched a new premium range of pizzas.

Talking at the launch, Managing Director Harpo Gooneratne said that they are proud to be the first homegrown brand in Sri Lanka to offer online ordering. "To simplify operations to our customers, we are introducing online ordering that saves time, that offers convenience and easy access for our guests to enjoy the Harpo's Pizza and Pasta range," he said.
"We are the first local brand that came to the market nine years ago. We had a number of international players already in the country at that time. We opened our first branch last year in Nugegoda. The next stop is Mount Lavinia early next year," he added.

Harpo's Pizza Brand Executive Shehann Thahir said that when he joined Harpo's Pizza a few months ago, they looked at how to make their internal system better to serve the customers better.
"First, we identified to have a loyalty programme. With that we implemented the Harpo's Pizza Perks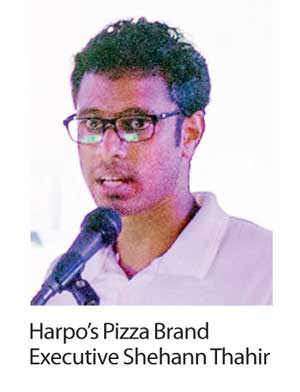 Loyalty programme in February. We have already got 10,000 members." "Our second step was the i-order platform. We set our outlet in Nugegoda. The idea behind i-order is simply the ordering experience. For example, we have 30 ranges of pizzas and a lot of customers come and wonder what pizzas would be ideal for them. So, we thought the best way is to communicate individually. They get to direct their order straight to our kitchen. With that we were available to eliminate communication barriers that occur between the front house and the kitchen staff," he said.

As these two initiatives set the platform for online ordering, he said that the online ordering system is introduced to these loyal customers and for the benefit of new customers. He said they started to work on this six months ago and they did a lot of research to understand what exactly online ordering is.
Talking about the process, he said that the customers could login using their mobile number, place the order, chose the payment method and then it would be delivered to the doorstep.
It was noted that all Pizza Perks members can redeem their Harpo's Pizza Perks online too.
Further, it was noted that HNB partners Harpo's Pizza in the payment aspect.