---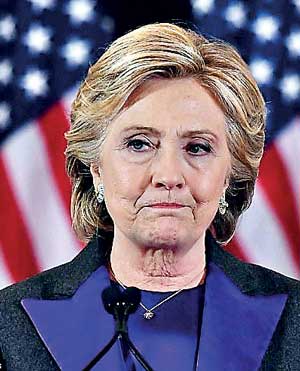 US, (Daily Mail), 18 November 2017 - President Donald Trump hit out early Saturday at 'crooked' Hillary Clinton, his defeated election opponent.

Trump called Clinton 'the worst (and biggest' loser of all time' for saying that his election victory has 'lots of questions about its legitimacy.' 'She just can't stop, which is so good for the Republican Party,' Trump tweeted on Saturday.

'Hillary, get on with your life and give another try in three years!'

Trump reacted Saturday to an interview Clinton gave to Mother Jones.

Clinton said that Trump's election victory was tainted because of voter suppression and alleged interference by Russia.The former secretary of state and Democratic nominee said in the interview Friday that the outcome of the election was impacted by a 'very successful disinformation campaign' mounted by the Russians. American intelligence agencies are unanimous in their conclusion that Russian President Vladimir Putin ordered his government to undermine Clinton's campaign and help Trump get elected.

Russia has denied interfering in the election, and Trump's campaign rejects claims that it received help from Moscow.