---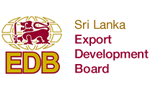 Sri Lanka's January – October YoY exports have improved 9 percent while an export product that recently faced volatile EU markets showed a promising turnaround, a statement by Industry and Commerce Ministry said."For the month of October 2014 alone our provisional exports were at US $ 900 million and this is only merchandise exports without taking into account service exports such as ICT," Export Development Board CEO/ Chairman Bandula Egodage said.Egodage was commenting on the provisional top-line export data presented to him by his directors at a progress review session at EDB yesterday.

Accordingly, January-October provisional merchandise (only) exports this year topped US $ 9.1 billion, rising by 8.8 percent from last year's January-October total of US $ 8.36 billion.Service exports values such as ICT/BPM exports are not included in Jan-October 2014 values and are awaited by EDB as they are still being processed by other relevant agencies.

The leading markets for Sri Lanka in Jan-Oct 2014 have been United States, UK, Italy, India, and Germany respectively.Italy appears to overtake India to become the third largest export market as provisional exports to Italy jumped by a strong 29 percent.US continues to remain the largest export market for Sri Lanka with close to a quarter of Jan-Oct 2014 exports (US $2.2bn) heading there. About 73 percent of Jan-Oct exports were industrial products while the rest were from agricultural products (25 percent) and fisheries (2 percent). Meanwhile, fishery products that recently faced volatile EU markets, showed a promising turnaround as per latest data.

January-October 2014 exports of edible fish alone have increased by 12 percent to US $ 211 million from US $ 188 million in Jan-October 2013. Total edible fish exports for 2013 was recorded at US $233 million while other fish and fishery exports in the same year topped US $244.4 million.