---
Says negotiations for facility currently underway
Inks deal with CDB for US$ 140 mn facility
By Shabiya Ali Ahlam
State-owned banking giant Bank of Ceylon (BOC) is set to receive a fresh injection of US$ 300 million from multilateral lenders within the year, an influx that would assist in further strengthening the bank's balance sheet.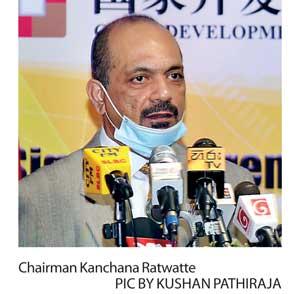 The long-term facility, for which negotiations are currently underway, is expected to be firmed up by year end, BOC Chairman Kanchana Ratwatte said. The upcoming facility is the second BOC would receive this year with the first being the US$ 140 million long term facility the bank sealed with China Development Bank (CDB) yesterday, where the proceedings took
place online.

CDB is the world's largest development financial institution and the largest Chinese bank for financing cooperation, long-term lending and bond issuance.
The US$ 140 million facility will be released in two tranches of US$ 70 million each.
According to Ratwatte, the bank is in no rush for the facilities to be released since the funds are sought to strengthen the bank's balance sheet, which in turn would help the government to roll out its efforts.

"There is no demand from the government as such and we have our resources; we account for 40 percent of the remittances so we are doing quite well. The facilities will further strengthen us," Ratwatte said.

When questioned on the disbursement, he shared that the facility would be utilised for supplementing the general lending requirements, which will provide the required support in the country's struggle to get past the impacts of the COVID-19 crisis that has led to a slowdown in almost all industries.

Ratwatte shared that the bank's lending portfolio is greatly focused on the SME and agriculture sectors, where much attention would be given to those engaged in exports, food preservation and storage of fresh produce, amongst others.

Commenting on the outlook on businesses, Ratwatte said the situation is still being assessed and the exact impact faced by enterprises due to the pandemic is still unknown. However, the bank is following the guidelines of Central Bank on facilitating businesses so that they "survive and revive," he said.

"We are looking for the export sector to return to normalcy. We want to keep them going. We cannot continue with our banking businesses if enterprises
don't survive.

We are looking for the survival of enterprises over the bottom line of the bank," Ratwatte said.