---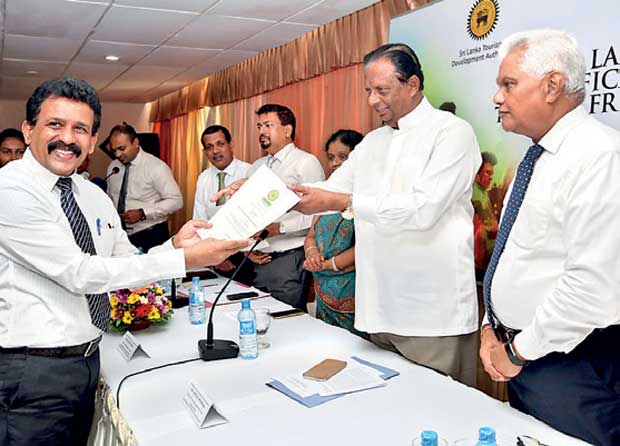 Sri Lanka Tourism Development Authority (SLDA) in collaboration with the Ministry of Health and Colombo Municipal Council has launched a project to encourage the upgrading of food safety, hygiene and service of eating places supplying food for foreign and local tourists.
The project is named 'Certification Scheme for Tourist-Friendly Eating Places'.
SLTDA is planning to expand this project initially launched within Colombo Municipality limits but aims to cover suburbs of Colombo soon. Under the second phase of the project, eating places in Kandy and Galle will be certified.
Starting in early May this year, SLTDA began inspection visits to eating places in Colombo. Based upon the inspection scores, 25 eating places in Colombo Municipal Council area were selected for certification.
Two types of certification are granted in these places with 'A' and 'B' grades. The certification awarding ceremony was held on 27th June at the Sri Lanka Institute of Tourism and Hotel Management under the patronage of Minister of Tourism Development and Christian Religious Affairs, John Amaratunga.
Minister Amaratunga has consistently highlighted the need for certification and standardization of tourism related services. "If we are to sustain the growth of our tourism industry, it is extremely important that we offer quality food and beverage services for tourists. SLTDA's ongoing project of certifying Tourist-Friendly Eating Places is a step in the right direction in this regard. While some Sri Lankan restaurants are among the best in the world having won international recognition, there is the other end of the spectrum which is not up to the mark. We have to have to raise the standards of these places," said Minister Amaratunga.
"Sri Lanka tourism industry has progressed dramatically over five decades to receive an all-time high of 2 million annual tourist arrivals at the end of the year 2016. As the Island's catalyst in Tourism, Sri Lanka Tourism Development Authority continuously drives to ensure the satisfaction of tourists with quality service", said Paddy Withana, Chairman of Sri Lanka Tourism Development Authority.
"Our objective is to make sure that tourists enjoy remarkable experiences during their stay in Sri Lanka. Colombo, being the Island's capital city is a famous destination among both foreign and local tourists, we need dynamic strategies to improve the standards and quality of the services offered to tourists.
"The project also aims to cover popular small eating places in Kandy and Galle in the near future. By participating in this project, the relevant eating places will get the advantage of supplying clean, hygienically prepared, tasty food and also to obtain more recognition in order to create more demand,"said Director General of Sri Lanka Tourism Development Authority
Malraj B.Kiriella.