---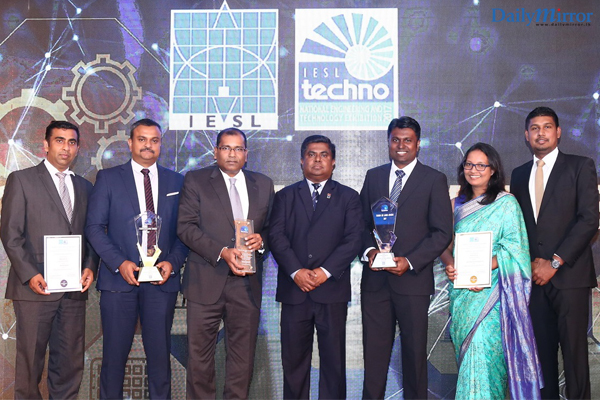 (From Left): Mobitel General Manager – Network Operations Viresh Dassanayake, Mobitel General Manager – Enterprise Business Prabhath Gamage, Mobitel Senior General Manager - Engineering & Operations Rasantha Hettithanthrige, IESL President Elect, Eng. Jayavilal Meegoda, Mobitel Manager - PS Core Network Planning Uditha Chandrasena, Mobitel Manager - Product Service Innovation Gayangi Karunaratne and Mobitel Senior Executive – Business Solutions Subashith Thissera holding the awards received and Techno and INFOTEL 2017
Mobitel, Sri Lanka's National Mobile Service Provider, won several prestigious awards at the National Engineering and Technology Exhibition, Techno 2017, and at INFOTEL 2017 held recently. Mobitel bagged the Gold award for Best Display of Engineering services and Silver award for Best Demonstration at Techno 2017. Mobitel also bagged an award at INFOTEL 2017 for the best stall. Both of which are premier technology platforms in the industry.
The Mobitel Stall at Techno 2017 was displayed under the theme "Driving innovation with technology for a smart nation" with an overall stall concept design to offer a novel experience to the visitor. Visitors were given the opportunity to experience all the segments or to join a guided tour with demonstrations at each zone. The main segments of the stall were virtual reality and entertainment experience, drone application demonstration and flying, connected urban agriculture with focus on smart hydroponics, smart aquaponics systems, and Applications of NB-IoT. This was the first ever NB-IoT technology (Narrow Band Internet of Things) showcase in South Asia. By empowering visitors to experience first-hand all the new technology trends, the stall inevitably created an interesting, energetic and lively environment, becoming the centre of attraction at Techno 2017, leading to it winning two key awards.
This year's INFOTEL stall of Mobitel was themed as "Connecting the smart nation with Mobitel". The main focus areas were NB-IoT technology and related applications, connected urban agriculture with focus on smart aeroponics, smart hydroponics, and smart aqaponics and virtual reality and entertainment.
Mobitel's innovative services are enhancing communication, technology, health, and IT literacy opportunities for citizens by boosting data usage through solutions that meet customers' daily usage requirements to enhance their lives.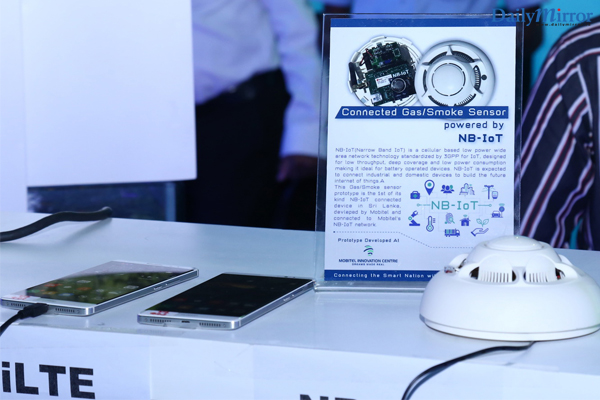 NB-IOT Connected Gas leakage detector designed by Mobitel showcased at TECHNO 2017.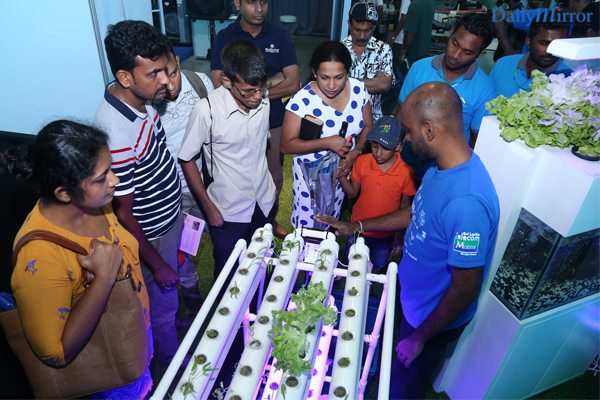 Showcasing of the 'Connected Urban Agriculture' at TECHNO 2017 by Mobitel.