---
Says expanding global footprint helped achieve growth amid challenging home conditions
Shares there is more ground to cover in international markets
Diversified conglomerate LOLC Holdings PLC's focus on overseas expansion has allowed the group to emerge as the most profitable listed entity for two consecutive years, a path that it would continue to explore as Sri Lanka's economy looks to adjust to repetitive shocks faced since 2019.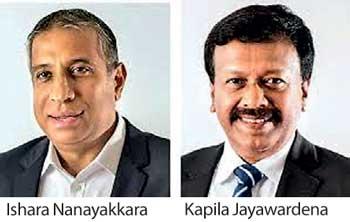 LOLC Deputy Chairman Ishara Nanayakkara stated that reaching of about US$ 7 billion in assets was possible due to 80 percent of the group's profit before tax (PBT) being derived from overseas investments, although a significant proportion is premature investments.

According to Nanayakkara, expanding global footprint assures stakeholders that diversified business interests would always enable the group to achieve growth regardless of challenges in
Sri Lankan operations.

"As a group, we have tried to seek opportunity amidst adversity, investing in emerging markets that are still up and coming. LOLC has always been bold and has never shied away from taking calculated risks, given our pioneering and adventurous spirit, always tempered by due diligence, taking the LOLC brand to global markets," said Nanayakkara in the company's latest annual report.

He added that given the entity's propensity to enter and exit businesses at opportune moments, LOLC will continue to build its profit base and remain hopeful that the new government will provide a conducive atmosphere to bring about economic recovery in Sri Lanka whilst the global economy too will hopefully bounce back sooner than predicted.

While LOLC extended its reach across sectors it is engaged in, for its financial services business it was a year of expansion into new overseas markets.
For the financial year ending 2020, it set foot into markets such as the Philippines, Nigeria, and Zambia, making revenue from overseas operations the major contributor to group profitability.

However, Nanayakkara asserted that there is "much more ground to cover and many more milestones to achieve" as the group expands its global network of companies.

Meanwhile, LOLC Group MD/CEO Kapila Jayawardena pointed out that considering the global nature of LOLC, it is fortunate that the group is not reliant on macro factors in any single country.

"Much like the previous year, the lack of opportunity for stronger growth in the domestic market was offset by an exceptional performance by LOLC's international operations," he pointed out.