---
By Zahara Zuhair
Regaining GSP Plus will most certainly come with its fair share of challenges, and the government must now should set its sights on helping the export sector of the county to reap benefits, Exporter's Association of Sri Lanka (EASL) stressed recently.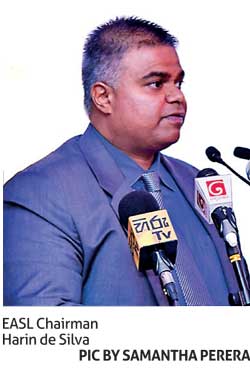 "Authorities like the Export Development Board (EDB) and the Foreign Ministry with its diplomatic missions overseas must now help prospective exporters to find new markets and opportunities for Sri Lanka to re-enter into markets in the European Union (EU).

It is absolutely imperative that Sri Lanka uses this window to boost her competitiveness of her exports in to the EU," EASL Chairman Harin de Silva said addressing the 20th Annual General Meeting (AGM) of the Exporters' Association of Sri Lanka held last Friday.

Some of the challenges he mentioned were the limited production capacities in Sri Lanka that have severely hampered the Sri Lankan export fraternity to cater to the additional demand that GSP plus would now bring to Sri Lanka.

He said that those exporters who shifted away from markets based in the European Union (EU) since GSP Plus was withdrawn from Sri Lanka will take time to re-establish themselves back in markets based in the EU.

Also with Brexit now unravelling itself in the EU, he said that Sri Lanka is faced with a very unique challenge that will have a negative impact on realizing the GSP Plus benefits especially for sectors like the apparel sector as the United Kingdom accounts for 40 percent of Sri Lanka's apparel exports in to the EU.

GSP Plus was regained in May this year after losing the preferential trade scheme for seven years, resulting in enabling Sri Lankan exporters to export over 6,000 products duty free to EU countries. Meanwhile, he said that while formulating two documents under the title 'Recommendations for a National Export Strategy, they came across several factors that stood out.

"These factors were; the limited basket of products which Sri Lanka has developed to match internationally-accepted standards, the lack of appropriate incentives being offered, especially for SMEs, the disconnect between industry and educational institutions hampering innovation and suboptimal use of Free Trade Agreements (FTAs) currently in place between Sri Lanka and foreign states.

Other factors he shared were the inconsistent policy and the lack of political will to develop the export sector of Sri Lanka, the lack of clear political objective and duplication of ministerial functions and external global factors which have a direct impact on Sri Lanka.

He added that with very frequently overlapping functions of several ministries and bureaucratic red tape, it has completely distorted the creation and outcomes of strategic initiatives that the government is trying to put in place.

He said that this invariably results in the formulation of inconsistent policy changes that have very far reaching effects on exports and trade. The chairman also stressed on the importance of public-private partnerships in all areas of trade that the EASL has always spoken of at various forums to-date.
"I believe following examples of countries such as Vietnam, Malaysia and Dubai on how they have championed, this model will hold Sri Lanka in good stead moving forward," he said.

He said that sound consistent policy decisions for the exports sector must invariably be followed by a readily available basket of goods that is of exportable quality and quantity.

"Diversifying our export basket of goods is paramount to making Sri Lanka a competitive export destination," he said.

According to data, in Sri Lanka, exports as a percentage of the GDP has fallen to 12.7 percent in 2016 from 33 percent recorded in 2000. Hence, they stressed the importance and need for a strong and positive political will and vision to drive the export sector of the country to reach its full potential.
EASL, which makes representations on issues effecting export trade in one voice, represents around 1000 exporters, direct and indirect who contribute to about 80 percent of total exports of the country.