---

From left: Dr. Amal Harsha De Silva - Deputy Director General, Medical Services II, Ministry of Health, Channa Gunawardana - Chief Executive Officer, Dankotuwa Porcelain PLC , Yoshan Fernando - Director/Chief Executive Officer Royal Fernwood Porcelain Limited, Dr. Charith Nanayakkara - Lecturer of the Department of Surgery specializing in Neurosurgery at Teaching Hospital, Kotalawela Defense University Sri Lanka
Dankotuwa Porcelain PLC, renowned for its luxurious and elegant porcelain tableware introduced the all new customized steam inhaler which is ideal for individuals affected by respiratory tract infections including COVID-19.

Designed and advised by Dr. Charith Nanayakkara, this modified steam inhaling device will be made available at hospitals and quarantine centers currently providing medical care for patients affected by the Coronavirus Disease (COVID-19).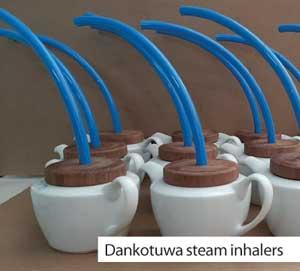 The Dankotwa steam inhaler is also easy to use and can be utilized at homes for prevention of multiple respiratory tract related conditions. It is also noteworthy that this product is a modified version of the existing steam apparatus called the Nissen Steamer which is considered outdated but is currently being used by hospitals.

Dankotuwa Porcelain PLC, a subsidiary of Ambeon Holdings PLC commenced its commercial operations in 1984. From superior glazing technologies, personalized designs and endless options, the company continues to create timeless and modern collection of porcelain-ware that expresses exclusive dining experience for every occasion.

"At a time when health officials and governments are battling to create a better place amidst current global pandemic, the Ambeon Group is pleased to be able to contribute towards this effort and serve the people of Sri Lanka and the world," stated Murali Prakash, Group Managing Director Ambeon Capital PLC and Ambeon Holdings PLC.
---
Special features/benefits of the steam inhaler
The Dankotuwa Steam inhaler comes with a nasal steaming tube which will help to directly focus the steam to the mouth/ nose. This will give a closer path for the inhaled steam to move towards the Frontal Sinus when treating Frontal Sinusitis (Frontal Sinus is the sinus that one has right above the eyes. This is also a common sinus which causes sinusitis and headache).
The rubber tube which was used in the first batch of inhalers produced is intended to be modified and replaced with Porcelain, so that it could be sterilized and cleaned easily thus would trap less germs. This will also ensure that germs will be killed, avoiding transmission from one patient to another, even if the inhaler is shared.
The product is easy to use and can also be used in the household setup as it could be disinfected easily using household disinfectant chemicals or boiling.
All Dankotuwa Products are Lead and Cadmium free and does not use animal bone ashe. Therefore, this all new Dankotuwa steamer is even safer than the apparatus that is and was used commonly in hospital wards for centuries.