---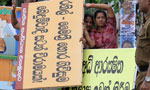 Minister Wimal Weerawansa today accused the media of being biased in their reports on the clash that erupted before the Sirikotha Wednesday morning when a protest was staged by a group named 'The Federation of National Organizations' that is said to be affiliated to his party – the National Freedom Front (NFF).
"Is this so-called free-media blind? It was not a clash! It was clearly an attack that was launched on the innocent protestors by UNP MP Mujibur Rahuman and his thugs," he charged.
He also commented on the crude comments that were made on former President Chandrika Kumaratunga by Higher Education Minister SB Dissanayake.
"Anyone has the freedom to make comments. In fact I don't believe that people would see anything wrong with such comments made by Minister Dissanayake – both the UNP-ers and SLFP-ers agree with him on his statements on her," he said.
Video by Sanath Desmond