---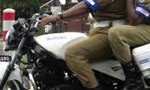 Three men who pleaded guilty to the charge of stealing a new 600cc engine capacity motorcycle valued at Rs.3.6 million belonging to the Slave Island Traffic Police were yesterday each ordered to pay Rs.3,000 as crown cost.
The suspects are said to be employees a leading Insurance Company and a State Corporation and they were treated leniently by Colombo Fort Magistrate taking into consideration the fact that they were still in government service.
A police constable attached to the Traffic Police Division of the Slave Island Police had made a complaint with the Slave Island Police alleging that a recently distributed motorcycle had been stolen by someone soon after it was parked at Malay Street on October 2.
However, the police later found that the stolen motorcycle had been returned to the same location by those who had reportedly taken it away.
It was also revealed that the constable who was interdicted on the charge of negligence has still not been reinstated in service. (Lakmal Sooriyagoda)